Product Details

More about the Jack Frost Ligustrum...
Noteworthy Characteristics
'Jack Frost' is a beautiful evergreen Ligustrum that produces fragrant flowers in Spring, but these are secondary to the striking, white and green variegated, glossy, leaves. The large, glossy leaves are medium green with creamy white variegated margins.
Uses
With an upright, broad and bushy form, Jack Frost makes makes a great mid-size hedge, and looks equally nice by itself as an accent planting in foundation plantings or landscape beds and islands. The bright foliage contrasts nicely with other shrubs that have purple, red, or dark green foliage.
Culture & Care Tips
Jack Frost Ligustrum is easy to grow in a variety of soils provided they are well-drained. Coloration is best in full to mostly sun. Very disease resistant. No pruning necessary howebver can be pruned as a formal hedge or small tree.
---

Helpful Planting & Care Tips Provided By Our Experts...
---
Put Abundant Color in Your Landscape Year Round With...

Works great with:
Bordeaux Dwarf Yaupon Holly
$27.97
$19.97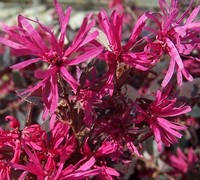 Purple Diamond Loropetalum
$44.99
$39.97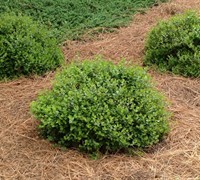 Rose Creek Dwarf Abelia
$46.97
$41.97
Parsoni Juniper - Juniperus davurica 'Parsonii'
$29.99
$19.97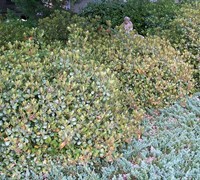 Snow White Indian Hawthorne
$25.97
$17.97
New Arrivals at Gardener Direct: