More about Double Feature Crape Myrtle...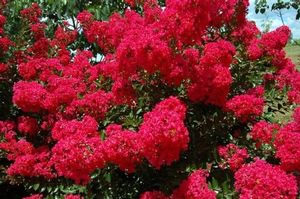 Noteworthy Characteristics
The fantastic Double Feature Crape Myrtle is breaking new ground with it's continual blooming habit and low maintenance characteristics. It's non-stop brilliant ruby-red blooms first appear in June and continue until the first heavy frost. New growth of small wine-red leaves transition to lovely dark green. This reblooming shrub produces no seed capsules, reblooming on the same panicles. As a semi-dwarf Crapemyrtle, mature size is only 6-8 feet in height and width, forming a dense, perfect ball, requiring little to no pruning.
Uses
Double Feature Crape Myrtle is a semi-dwarf making it a great selection for planting in small groupings, as a single specimen, or as a colorful screen or hedge. Crape myrtle trees are also nice on the corners to frame in homes and other structures or on either side of an entryway.
---

Helpful Planting & Care Tips Provided By Our Experts...
How To Plant A Crape Myrtle Tree
How To Prune A Crape Myrtle Tree
How To Plant A Tree On A Slope, Hill Or Embankment
How To Fertilize A Crape Myrtle Tree
How To Stake A Newly Planted Tree
---
See...