Product Details
More About Hint of Gold Caryopteris...
'Hint of Gold' is a variegated hybrid that features bright golden yellow leaves with mint-green margins. Some leaves have more gold coloring than others, but the bottom line is that the variegated foliage is superb and lasts well throughout the summer. The foliage is aromatic when brushed with a hand. Dark blue flowers in terminal and axillary clusters (cymes) bloom from mid to late summer into fall. Flowers are very attractive to butterflies, bees and other beneficial insects.
USDA Zone: 5A-9B
Size: 24-36"H x 24-36"W
Sun Exposure: Full to Mostly Sun
Soil / Moisture: Average to Somewhat Dry when established
Tolerances: Heat, Drought, Insect, Disease, Deer
Attracts: Butterflies, Pollinating Bees
Uses & Styles: Borders, Butterfly Gardens, Cottage Gardens, Pollination Gardens, Rock Gardens, Xeriscape
---
Helpful Related Articles Provided by Our Experts
---
You Can Have Color Year Round In Your Landscape & Gardens!

Works great with: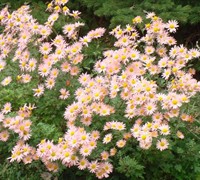 Sheffield Hardy Garden Mum
$27.97
$19.97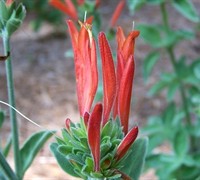 Hummingbird Plant - Dicliptera suberecta
$22.97
$15.97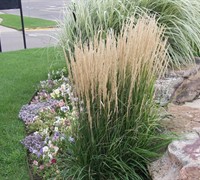 Karl Foerster Reed Grass
$27.97
$19.97
New Arrivals at Gardener Direct: