Product Details
Loropetalum Chinense Var. Rubrum 'Crimson Fire' is a fast growing shrub that can be grown in USDA Plant Hardiness Zones 7A through 7A. It matures to an average height of 1 foot to 2 feet and an average width of 2 feet to 3 feet, depending on climate and other environmental factors. It prefers growing in a location that provides full sun and grows best when planted in sand soil that is well drained. In the spring Crimson Fire Dwarf Loropetalum produces pink flowers. The foliage is burgundy in color. It attracts visual attention and is resistant to deer. If you like fragrance, Loropetalum Chinense Var. Rubrum 'Crimson Fire' has fragrant flowers.

Crimson Fire Dwarf Loropetalum can be useful in the landscape in mass plantings and also in rock or xeriscape gardens.
More about Crimson Fire Loropetalum...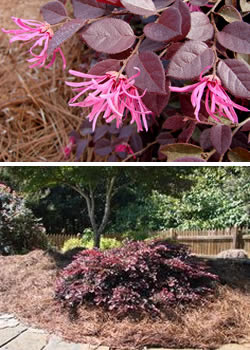 Noteworthy Characteristics
Crimson Fire is a dwarf Loropetalum growing to 2-3 feet in height with an equal spread. The burgundy-red foliage is a stunning contrast to the stunning, fragrant, hot pink fringe flowers which smother the plant in spring. New growth in spring emerges ruby red maturing to burgundy with a purple cast. This is easy to grow and well-behaved shrub.
Uses
It's compact, spreading habit and foliage color and texture make Crimson Fire an excellent choice for: Mass Plantings, Small Groupings, Flowering Shrub Borders, Low Hedges, Home Foundation Plantings, Erosion Control on Slopes and Embankments, Container Gardens, Asian Theme Gardens, and as a Groundcover.
Culture & Care Tips
Crimson Fire Loropetalum does best in full sun to partial shade. It prefers to grow in well-drained but moist soils with a strong preference for rich, acidic soils. During the first season, water enough to keep soil moist but not constantly soggy. No pruning necessary however responds well to it.
Helpful Planting & Care Tips Provided By Our Experts...
How To Plant a Shrub in a Container or Pot


Works great with: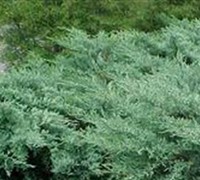 Grey Owl Juniper
$55.97
$43.97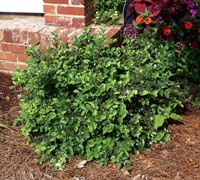 Emerald Snow Loropetalum
$24.99
$19.97
Bordeaux Dwarf Yaupon Holly
$27.97
$19.97
Customer Reviews
4.5
out of 5 stars from
2
total customer reviews
1 reviews
1 reviews
0 reviews
0 reviews
0 reviews
Most Helpful Reviews
Nice addition
May 20th 2013
by Wayne - Las Cruces, NM
Great addition to my garden. Purchased 8 for my front yard and they are growing together nicely and really add some needed color!
Crimson Fire Dwarf Loropetalum Customer Review
April 8th 2014
by Melanie - Panama City, FL
Love my Loropetalum! The dwarf varieties are really great and seem to not need any pruning so far. Using them as a hedge by my patio.
New Arrivals at Gardener Direct: