More about Freckles Clematis...
Noteworthy Characteristics
Nodding, bell-shape, 2" creamy flowers covered with pink to red blotches, and slightly scented. This variety is an evergreen variety, hardy only in the south or conservatory/greenhouse.
Details
USDA Zones: 7A-9B
Bloom Season: Late Winter / Early Spring
Bloom Color: Creamy with Pink to Red blotches
Bloom Size: 1-2 inch
Bloom Type: Single, Bell Shape
Light Requirements: Sun or Part Shade
Moisture Requirements: Moist, well-drained
Height: 12-15 feet
Width: 6-10 feet
Habit: Vining
Other Notable Attributes: Winter blooming!
Uses: Arbors & Arches, Fences, Posts, Rails, Tree Climber, Partitions
Pruning
Clematis Pruning Group 1
Clematis in pruning Group 1 flower on last year's wood and therefore should not be cut back to near ground level (especially montanas, armandii, chrysocoma and gracilifolia which can be killed by hard pruning). Prune these varieties as soon as possible after they finish flowering. Avoid pruning them after the end of July, so they have time to produce next year's flower buds before winter sets in. This group should be lightly pruned to remove all dead and wispy growth. Additional pruning can be performed to remove three or four year old wood to reduce the bulk of the plant. Cut each stem just above a pair of healthy buds.
Helpful Planting & Care Instructions from Our Experts
How To Plant And Care For Clematis Vines
How To Fertilize And Water Clematis
The Many Uses Of Clematis Vines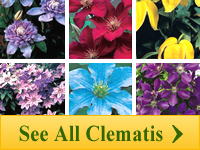 <