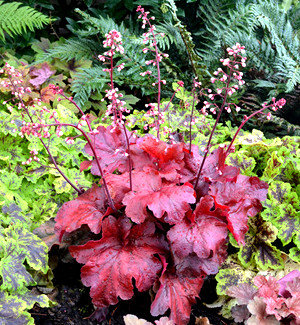 This wondefully colored perennial earns it's name well. The mounded, glowing red foliage might cause you to call the Fire Chief! Bicolored pink and white flowers rise atop the the beautiful, bright leaves on dark red stems. Blooms throughout spring, summer, and fall! Foliage color dulls just a little during the winter, but otherwise holds it's wine red color.
Details
USDA Zones: 4-9
Height: 1'
Width: 1-2'
Spacing: 1'-3'
Sun: Mostly Shade. Can be grown in Full Sun in Northern regions.
Soil: Prefers Well Drained organically rich soil. In heavier soils incorporate plenty of soil amendment and/or organic matter.
Water Needs: Average
Flower Color: Pink, White
Bloom Period: Spring, Summer, Fall
Foliage: Brilliant Red
Fragrance: None
Tolerances / Resistances: Heat. No major problem with insects.
Attracts: Visual Attention
Uses & Styles: Borders, Accent, Containers, Cottage Gardens, Rock Gardens, Shade Gardens, Perennial gardens, Woodland Gardens, Landscape Beds, Small Groupings, Foundation, and Under Shade Trees
---
Helpful Related Articles Provided by Our Experts
---
You Can Have Color Year Round In Your Landscape & Gardens!