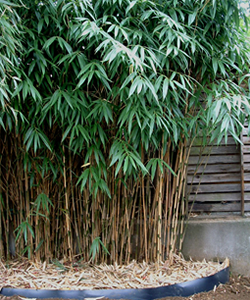 Description
The Japanese Arrow Bamboo is native to South Korea and Japan and is a favorite for indoor use or outdoor screening with height restrictions and is extremely shade tolerant. It will average 12 to 16 feet, in most areas of the country, with its long, strap-like, arrow-shaped foliage beginning as low as one foot, but can be "limbed up" to form what looks like a very attractive small tree. It can grow very dense if not thinned providing a very lush green screening effect. It can be be pruned as a tight box hedge to almost any height. Grows very fast and is cold hardy. It works very well for stabilizing creek banks and other wash areas. We have reports back from our customers in zones 6 that this one will remain evergreen to -10 degrees F when well mulched. Also wind and salt tolerant.
Japanese Arrow is a running bamboo, which means it spreads. Bamboo can be easily controlled in a small area (a normal city yard) simply by mowing or stepping on the young shoots. Keep in mind that running bamboo only puts up new shoots for a short time each year, and when they are "shooting", the new plants are very fragile and easy to destroy. Root pruning, a Bamboo Root Barrier or growing plants in above- or below-ground containers are other methods to control spread.
Gardener Direct also carries Bamboo fertilizer and planting soil containing Biochar, a highly porous material that allows for long term water and nutrient holding capabilities.
---
Uses
Containers/Pots: Excellent
Crafts: Good
Edible: Small
Hedge: Excellent
Indoor: Excellent
Ornamental: Good
Privacy Screen: Excellent
Specimen: Yes, in containers
Wood Quality: Too small
Details
USDA Cold Hardiness Zones: 6-10
Type: Running
Height: 14-20'
Spread: 5' with no control
Culm Diameter: 1/2 to 3/4"
Sun: Sun or Shade
Soil: Average
Growth Rate: x

---
Helpful Related Articles Provided by Our Experts...
How To Fertilize and Water Bamboo Plants
---