Product Details

More about Hopi Crape Myrtle...
Noteworthy Characteristics
'Hopi' is a Fauriei Hybrid crape myrtle specifically hybridized for increased cold hardiness, even doing very well in mos areas of Zone 6. The very nice, large clusters of soft, rose-pink to mauve flower clusters contrast nicely with the lustrous, dark green leaves. Blooms start in mid July, and persist until early fall in most areas. The growth habit is fairly broad & rounded - occasionally becoming slightly wider than tall.
Uses
Hopi is a mid size crape myrtle selection best for planting in small groupings or as a single specimen, as a colorful screen or hedge, on the corners to frame in homes and other structures, or planted on both sides of an entryway.
About Fauriei Hybrid Crape Myrtles
In 1959, Dr. Donald Egolf began a crapemyrtle research project at the U.S. National Arboretum to develop crape myrtles that were disease resistant, hardy, true to flower color, and that would repeat bloom.
Germplasm of Lagerstroemia fauriei was collected in Japan by Dr. John Creech and distributed to the U.S. National Arboretum. This material was discovered to be resistant to powdery mildew; a disease known to inflict many varieties of crape myrtle, and to possess a unique, heritable, dark brown trunk color. L. fauriei was incorporated into the research program with great success. Since then, twenty "Fauriei Hybrid" crapemyrtle cultivars have been released!
The successful hybridization of Lagerstroemia indica with Lagerstroemia fauriei revolutionized the development of crapemyrtle. In addition to field resistance to powdery mildew, the hybrids provide new trunk colors that in the future may be sought as much as the brilliant flowers.
Helpful Related Articles
How To Prune A Crape Myrtle Tree
How To Prune A Dwarf Crape Myrtle Bush
How To Plant A Crape Myrtle Tree
How To Fertilize A Crape Myrtle Tree
Choosing The Best Crape Myrtle Tree

Works great with:
Variegated Liriope
$26.97
$18.97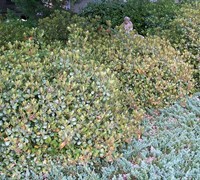 Snow White Indian Hawthorne
$25.97
$17.97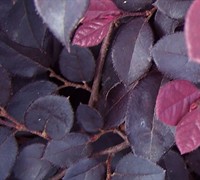 Purple Pixie Loropetalum
$48.97
$34.97
New Arrivals at Gardener Direct: