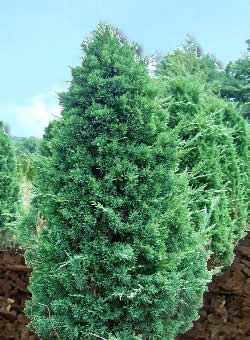 More about the Iowa Juniper...
Noteworthy Characteristics
The Iowa Juniper is a slow to moderate growing coniferous evergreen featuring outstanding blue-green foliage on a dense, pyramidal form. As the foliage ages it turns more grey-green. It grows to about 15 feet in height with an 8-10 foot spread. Its growth remains dense as it matures. It produces decorative, large, silvery-blue, waxy berries.
Uses
Iowa Juniper is useful in the landscape as a specimen plant or informal hedge or screen. It makes the perfect corner plant for two-story homes. It shears well for a more formal shape so can also be useful as an outdoor Christmas tree.
Culture
Iowa Juniper is easy to grow and very low maintenance. It prefers full sun and is not picky about soil type or pH as long as the soil is well-drained. It is tolerant of dry soil, drought, salt, and windy sites. It never requires pruning unless you want to shear it for a more formal look.
---
Helpful Planting & Care Tips Provided By Our Experts...
How To Plant A Tree On A Slope, Hill Or Embankment
How To Stake A Newly Planted Tree
---
See...
---