Product Details
Ophiopogon Japonicus 'Nana' is a moderate growing groundcover plant that can be grown in USDA Plant Hardiness Zones 6A through 6A. It matures to an average height of 1 inch to 1 foot and an average width of 1 foot to 2 feet, depending on climate and other environmental factors. It prefers growing in a location that provides shade and grows best when planted in sand soil that is well drained. The foliage is yellow in color. It attracts visual attention and is resistant to deer.

Dwarf Mondo Grass can be useful in the landscape along woodland borders and also in rock or xeriscape gardens.
---
More about Dwarf Mondo Grass...
We love this tough little spreading grassy plant! Dwarf Mondo Grass is an evergreen groundcover that looks like turf...very deep green turf that is! If you have a shady yard and are looking for a no-maintance lawn, Dwarf Mondo Grass is your choice. But it uses don't stop here. Dwarf Mondo Grass has many uses.
Mondo Grass is the perfect choice of plants to fill the gaps between stepping stones and pavers. It holds up very good to foot traffic and will not spread across the surface of the stones or pavers as many other spreading plants will do.
Mondo Grass is also great for use as a groundcover under small or large shrubs or trees, such as Japanese Maples. It fills in and contrasts nicely around boulders and garden ponds. It can also be useful in containers, where it serves as a cute little patch of "turf."
Helpul Related Articles...
How To Select And Plant Creeping Perennials Between Stepping Stones And Pavers
How Many Groundcover Plants Does It Take To Fill A Space Or Area?
How To Measure For Total Square Feet Of A Planting Space Or Area
How To Space And Lay Out Groundcover Plants In A Planting Area
How To Plant Groundcover Plants
How To Care For Newly Planted Groundcover Plants
---

Works great with:
Crimson Queen Japanese Maple
$113.97
$90.97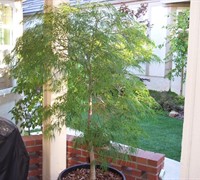 Viridis Japanese Maple
$153.99
$134.97
Halcyon Blue Hosta Lily
$24.99
$19.97
Patriot Hosta Lily
$19.97
$13.97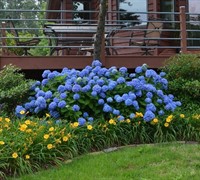 The Original Endless Summer Hydrangea
$46.99
$35.97
Soft Caress Mahonia
$24.99
$19.97
Leatherleaf Mahonia - Mahonia bealei
$41.97
$29.97
Autumn Carnation Encore Azalea
$31.92
$29.97
Customer Reviews
5
out of 5 stars from
1
total customer reviews
1 reviews
0 reviews
0 reviews
0 reviews
0 reviews
Most Helpful Reviews
Dwarf Mondo Grass
July 17th 2014
by Larry - Philadelphia, PA
Plants arrived in excellent condition and fast! Great product and service!
New Arrivals at Gardener Direct: