Product Details
Coppertone™ Dystilium is a fast growing shrub that can be grown in USDA Plant Hardiness Zones 7A through 7A. It matures to an average height of 3 feet to 4 feet and an average width of 3 feet to 4 feet, depending on climate and other environmental factors. It prefers growing in a location that provides full sun and grows best when planted in sand soil that is well drained. In the winter Coppertone™ Dystilium produces red flowers. The foliage is blue green in color.

Coppertone™ Dystilium can be useful in the landscape in foundation plantings and also in rock or xeriscape gardens.
More about Coppertone™ Dystilium
Noteworthy Characteristics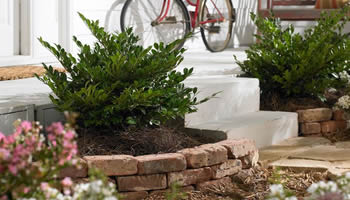 It's been years since an entirely new and unique evergreen shrub has come along that we think, like 'Carissa Holly' and 'Bordeaux Yaupon Holly, will become a staple in home foundation plantings. Introducing Coppertone™ Distylium; a compact spreading to rounded evergreen flowering shrub with coppery-red new foliage that matures to deep blue-green. A member of the witch hazel family, this plant produces unique, petite red flowers that appear in the winter, when not much else is blooming in the landscape. The flowers consist of small ribbon-like petaled clusters of red blooms borne at the leaf axis of the stem.
Uses
Highly adaptable, Coppertone™ Distylium is a great alternative for boxwood, Otto Luyken laurel, holly and juniper in home foundation plantings or anywhere you want low maintenance evergreen shrubs. With its tolerance of wet soil, Distylium is the perfect choice for those landscape beds between the sidewalk and the home where water can't escape and soil often remains constantly soggy. Also makes a nice accent plant on either side of an entryway.
Culture & Care Tips
With superior tolerance to dry or wet soils, heat and cold hardiness (Zone 7a-9b), full blazing to filtered sun, exceptional pest and disease resistance (including deer and rabbit), compact size and low maintenance, and attractive evergreen foliage and texture, Coppertone™ Distylium has absolutely everything we look for in a home foundation plant.
---

Helpful Planting & Care Tips Provided By Our Experts...
---
Put Abundant Color in Your Landscape Year Round With...

Customer Reviews
4
out of 5 stars from
2
total customer reviews
0 reviews
2 reviews
0 reviews
0 reviews
0 reviews
Most Helpful Reviews
Coppertone Distylium Customer Review
November 27th 2015
by Jackson - Chattanooga, TN
Great plant, got in in the ground a few days after I received it. Looking good so far. Thanks.
Coppertone Distylium Customer Review
January 15th 2014
by Laura - Richmond, VA
Plant was a little damaged when I received it so I contacted right away and got sent another plant for free. The second one arrived great and very healthy. Pleased with how fast my plant was replaced and the quality of the replacement. I would order again.
New Arrivals at Gardener Direct: