Product Details
Liriope Muscari 'Big Blue' is a slow growing groundcover plant that can be grown in USDA Plant Hardiness Zones 6A through 6A. It matures to an average height of 1 inch to 1 foot and an average width of 6 inches to 1 foot, depending on climate and other environmental factors. It prefers growing in a location that provides shade and grows best when planted in sand soil that is well drained. In the summer Big Blue Liriope produces violet flowers. The foliage is yellow in color. It attracts butterflies and is resistant to deer.

Big Blue Liriope can be useful in the landscape along woodland borders and also in rock or xeriscape gardens.
---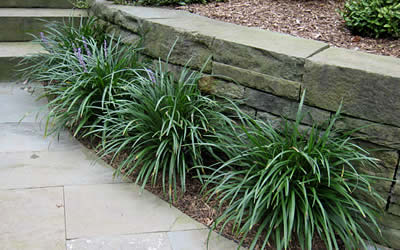 More about Big Blue Liriope...
This evergreen perennial of the lily family is one of the most widely used groundcover plants in existence - and for very good reason! Unlike other Liriope varieties that spread wildly, Big Blue forms neat clumps of grassy foliage that gradually increase in size over time, making it a perfect choice for use as a border.
Lavender-violet flower spikes rise above the very dark-green clumps of foliage during summer, followed by attractive black berries.
Big Blue Liriope will tolerate full sun however we think it looks and performs better given some shade during the afternoon. If you're looking for a Liriope that will tolerate full sun check out 'Variegata.'
It's clumping rather than spreading growth habit make it the perfect choice for a border however we have used it all over our gardens in mass plantings under trees and in other shady areas. This is a groundcover plant highly suitable for home foundation plantings. It can also be used singly or in combination with other plants in container gardens where it adds a very nice vertical accent and grassy texture.
Big Blue Liriope prefers a moist but well-drained loose soil however will grow in most any average soil. When established it is quite drought tolerant and only requires supplemental irrigation during prolonged periods of severe drought.
If you are looking for toughness and good looks, Big Blue Liriope is hard to beat!
Helpul Related Articles Provided by Our Experts...
How Many Groundcover Plants Does It Take To Fill A Space Or Area?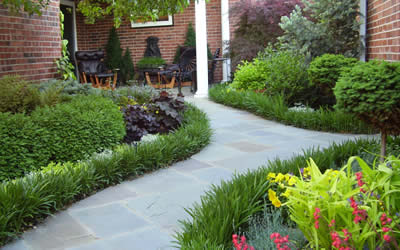 Customer Reviews
5
out of 5 stars from
2
total customer reviews
2 reviews
0 reviews
0 reviews
0 reviews
0 reviews
Most Helpful Reviews
Big Blue Monkey Grass Customer Review
November 7th 2015
by Kenny - Rochester, NY
Happy with plants i received. Arrived healthy. Will order again
Happy
April 9th 2013
by Madeline - Blue Ridge, GA
Plants arrived in fast and looking top notch! Very happy with purchase!
New Arrivals at Gardener Direct: