---
NOTICE: We do not ship our tropical plants to a location unless and until low temperatures are above 55 degrees Fahrenheit
---
More about Evolvulus Blue Daze...
Noteworthy Characteristics
Blue Daze, or Evolvulus, is one plant that likes it hot! It grows in a low, spreading mound of fuzzy, light grey foliage that is a nice background to the funnel shaped, powder blue, 5-petaled flowers with white throats that are born individually near the stem tips. Blue Daze blooms profusely and almost continuously throughout the warm season.
Uses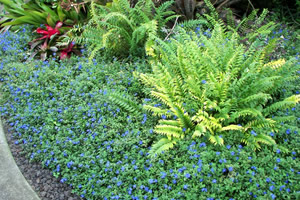 Blue Daze is a standout in beds and borders or as a ground cover. It's especially attractive grown in masses near yellow or pink flowering plants. Blue daze is spectacular in container gardens and hanging baskets, where it's branches will cascade over the edges. In zones north of 9a it can be overwintered indoors. It is highly tolerant of salt, and makes a fine ornamental for the coastal garden or in a planter on an oceanside balcony.
Details
USDA Zones : 9a-11



Plant Type: Tropical Evergreen Subshrub
Height: 6-12"
Width: 24-36"
Sun / Light Needs: Full Sun or Partial Shade
Soil Type: Preferably sandy, well-drained. Hates wet feet!
Water Needs: Average
Fertilizer Needs: 1 or 2 times monthly with water soluble fertilizer. 1 or 2 times a season with slow-release, granular fertilizer.
Maintenance: Low
Flower Color: Sky Blue
Bloom Season: All season
Fragrance: None
Resistances: Heat
Fragrance: None
Salt Tolerance: High!
Houseplant Usage: Good. Place it on a sunny sill and feed it regularly.
---
Helpful Articles from Our Experts
How To Overwinter Tropical Plants Indoors
Disease Control For Houseplants
---