More about Early Autumn Camellia...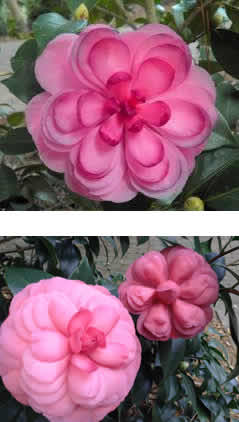 Noteworthy Characteristics
We think Early Autumn is one of the best Camellias introduced in recent years. The rose colored double flowers are edged in a deep lavender, standing out beautifully against the very dark blue-green foliage. The blooms vary in shape and form, sometimes being a formal double and sometimes resembling a pinwheel. In mild areas, the plant can bloom all season long: from early to mid-fall through the winter and into spring. In cooler areas, blooms are produced from mid-to late-winter through early- to mid-spring.
Uses
Early Autumn is a larger growing camellia that is useful to create colorful, evergreen hedges or screens. It can also be useful in any partially shaded environment as a specimen shrub or "limbed up" to form an attractive, small, evergreen tree. It is perfect for use as Espalier: trained to grow flat against a large, open wall or as a corner plant in home foundation plantings.
Culture
Camellias prefer a fertile, moist but well-drained, acidic soil. Constantly soggy soil is a slow killer. Water only enough during the first year after planting to keep the soil moist, not soggy or wet. Your new camellia should not need regular watering after the first except during extended periods of dry weather. Camellias do best in partial shade or filtered sun. Avoid afternoon direct sun.
Helpful Related Articles Provided By Our Experts...
How To Plant A Camellia Shrub
How To Prune A Camellia Plant
How To Fertilize A Camellia Plant
More Details...
USDA Zones: 8A-9B (7?)

Species: Japonica
Bloom Color: Rose Pink
Bloom Size: 3-5 inches
Bloom Form: Formal Double / Pinwheel
Bloom Season: Fall to Mid Spring
Growth Habit: Upright, Dense
Maintainable Height: 6-10 feet
Maintainable Width: 5-8 feet
Light Preferences: Part Shade