Product Details
More about Sir Robert Azalea...
Noteworthy Characteristics
Sir Robert is a Robin Hill hybrid azalea that produces an abundance of large pale purple-pink striped flowers flecked and streaked with dark pink with a rose-purple spotted blotch and frilly edges. Needless to say, this azalea is a conversation piece when in bloom! The blooms are truly outstanding and appear in late spring through early summer. The plant itself is dwarf and rounded. The leaves are evergreen, glossy and dark green.
Uses
Sir Robert Azalea is excellent for use in small to large groupings in landscape beds and islands or as an accent in smaller gardens or large containers.
Culture & Care Tips
Azaleas prefer a well draining, moist and acidic soil rich in organic matter. With the exception of Southern Indica and Encore Azaleas, most azaleas prefer some shade or filtered sun during the hottest part of the day. Follow the links below for expert planting and care tips.
---

Helpful Planting & Care Tips Provided By Our Experts...
How To Plant An Azalea Shrub
How To Prune Evergreen Azalea Shrubs
How To Fertilize And Water Azalea Shrubs
---
Put Abundant Color in Your Landscape Year Round With...
---

Works great with: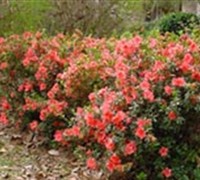 Autumn Coral Encore Azalea
$31.92
$29.97
Customer Reviews
4.5
out of 5 stars from
2
total customer reviews
1 reviews
1 reviews
0 reviews
0 reviews
0 reviews
Most Helpful Reviews
Sir Robert Azalea
August 17th 2015
by Andy - Pittsburgh, PA
Great plants! Delivered fast and healthy. Planted and they are now blooming nicely! Will buy from again.
Azaleas
May 11th 2013
by Patty - Lubbock, TX
Pleased with order. Everything looked great and my Azaleas are doing well! Looking forward to the blooms!
New Arrivals at Gardener Direct: