Product Details

More About Marmorata Aucuba...
Noteworthy Characteristics
Meet Marmorata...The most colorful Aucuba we've every laid eyes on! Lush and tropical in appearance, but remarkably tolerant of cold winters, Marmorata is an easy-to-grow, super-hardy evergreen shrub with large, lustrous, dark green leaves that are almost covered in bright yellow spots. There's more yellow than green on this one! Being of the female Aucuba persuasion, Marmorata produces purple flowers in spring that are followed by fat, bright red berries, which add even further appeal to this remarkable shrub. Reaching up to 6 to 8 feet in height with a 5-6 foot, give her a ample room to grow.
Uses
Marmorata thrives in shade to partial shade and will even tolerate the most sunless areas such as under a dense shade tree, under a tall deck or on the east side of a home or other building. She can also be grown in containers indoors or under the front porch. Also useful as a natural hedge, accent, or in small groupings in home foundation plantings and landscape beds and islands.
Culture & Care Tips
Prefers well draining soil and shade to partial shade. Morning sun is okay however direct afternoon sun will scorch the leaves. Constantly soggy soils can be problematic. No pruning necessary except to remove a broken or stray branch that spoils the form of the plant.
---
Helpful Planting & Care Tips Provided By Our Experts...
---
Put Abundant Color in Your Landscape Year Round With...
---


Works great with:
Halcyon Blue Hosta Lily
$24.99
$19.97
Autumn Fern
$29.99
$26.97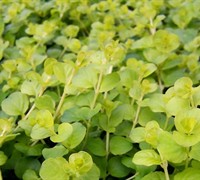 Aurea Golden Creeping Jenny
$29.99
$24.97
Soft Caress Mahonia
$24.99
$19.97
New Arrivals at Gardener Direct: