Product Details
Illicium Parviflorum 'Florida Sunshine' is a moderate growing shrub that can be grown in USDA Plant Hardiness Zones 6A through 6A. It matures to an average height of 4 feet to 5 feet and an average width of 4 feet to 6 feet, depending on climate and other environmental factors. The foliage is yellow in color. It attracts visual attention and is resistant to deer. If you like fragrance, Illicium Parviflorum 'Florida Sunshine' has fragrant foliage.

Florida Sunshine Yellow Anise can be useful in the landscape along woodland borders and also in theme gardens.
More about Florida Sunshine Anise...
Noteworthy Characteristics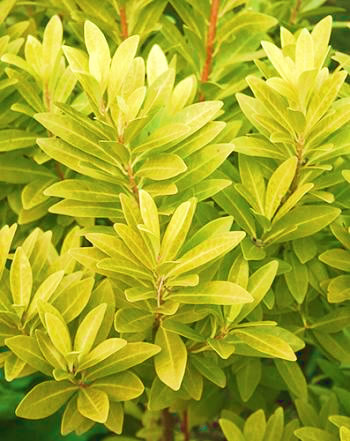 Florida Sunshine Anise is guaranteed to brighten the shaded to partially shaded areas of your garden with its chartreuse-yellow foliage. The evergreen leathery leaves are glossy and elongated ovals, emerging a bright chartreuse and maturing to a mild chartreuse or yellow-green. As the weather cools in the fall, the leaf color brightens to screaming yellow. During the same time, the upper stems take on a brilliant red cast, contrasting vividly with the leaves. In late spring, white flowers are borne from the branches. Each blossom has many tepals (false petals, and dangles downward. The penny-size fruits ripen from an olive color to brown and have the scent of anise, when crushed. They look like tiny pumpkins! Deer resistant. The shrub attains an upright (5' x 5'), rounded shape with open branches, especially in very shady situations.
Uses
Florida Sunshine Anise can be useful in the landscape as a an eyecatching specimen, in groups for splashes of color, or as a brightly colored hedge. It is really a brilliant beacon in the shade garden! It is also useful in shady home foundation plantings.
Culture
Grow 'Florida Sunshine' in a lightly acid, organic-rich soil that is moist. This plant is best located in shade to partial shade. Afternoon sun can cause leaf bleaching during the winter. Maintenance is minimal except for a snipping here or there of a stray branch.
---
Helpful Planting & Care Tips Provided By Our Experts...
---
Put Abundant Color in Your Landscape Year Round With...
---


Works great with:
Customer Reviews
4.5
out of 5 stars from
2
total customer reviews
1 reviews
1 reviews
0 reviews
0 reviews
0 reviews
Most Helpful Reviews
Beautiful plant
May 20th 2014
by Clare - Upper Saddle River, New Jersey
I ordered two of these and when I received them, they had fallen out of their pots during shipping and were broken and cracked at the base. I contacted Gardener Direct and sent them a picture and they immediately shipped out replacement plants. I am very pleased with the size and health of the replacement plants when they arrived and they look great in my garden. The chartreuse color is really fabulous! And I am impressed with Gardener Direct's great customer service and responsiveness.
Reply from Gardener Direct:
Hi Clare - Glad to hear that the replacements arrived safely and are looking great in your landscape! Let us know if there's ever anything else we can help you with.
Nice Plant
May 11th 2015
by Ellen - Wake Forest, North Carolina
Both plants arrived in good shape and are now growing in our yard. Love the color as it is a nice change from the regular anise with darker green leaves. We have always liked the plants we have received from Gardener Direct and have ordered quite a few over the last couple of years.
Reply from Gardener Direct:
Hi Ellen - Thanks so much for taking the time to provide us and visitors to Gardener Direct with your review. We are happy to hear that you were pleased with the Florida Sunshine Anise. We have these growing in a partially shaded area of our gardens and they are doing great after 2 years...probably tripled in size. The golden foliage really does light up a shady area! Thanks again and we certainly appreciate your doing business with us. Let us know if there's ever anything else we can help you with. We're at your service!
New Arrivals at Gardener Direct: