Product Details
Mazus is a fast growing groundcover plant that can be grown in USDA Plant Hardiness Zones 5A through 5A. It matures to an average height of 1 inch to 1 foot and an average width of 1 foot to 2 feet, depending on climate and other environmental factors. It prefers growing in a location that provides full sun and grows best when planted in loam soil that is moderately drained. In the spring Mazus produces blue flowers. The foliage is dark green in color.

Mazus can be useful in the landscape along woodland borders and also in theme gardens.
---
More About Mazus Reptans...
Mazus reptans is a mat-forming perennial to 2 inches in height with rosettes of lance-shaped, toothed, bright green leaves that creep and spread hugging the ground as it grows. The foliage is evergreen in warmer climates. From late spring to mid-summer the snapdragon-like purple-blue flowers with lower lips spotted with yellow and red nearly cover the foliage.
Mazus is a very vigorous groundcover that fills in quickly without being aggressive. It is perfect for use between stepping stones or to cover large patches of soil. It looks especially nice around boulders and the garden pond in our trial gardens. It can also be used as a very low-maintenance lawn substitute.
It is easy to grow in moderately fertile, moist but well-drained soil and prefers shade or morning sun with afternoon shade. This versatile plant will take more than it's share of abuse and keep on growing!
Helpul Related Articles...
How Many Groundcover Plants Does It Take To Fill A Space Or Area?
How To Measure For Total Square Feet Of A Planting Space Or Area
How To Space And Lay Out Groundcover Plants In A Planting Area
How To Plant Groundcover Plants
How To Select And Plant Creeping Perennials Between Stepping Stones And Pavers
How To Care For Newly Planted Groundcover Plants
---

Works great with: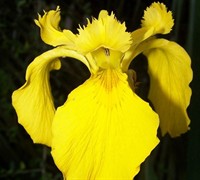 Iris pseudacorus - Yellow Flag Iris
$25.97
$17.97
New Arrivals at Gardener Direct: