Product Details
Juniperus Pfitzeriana 'Sea Green' is a fast growing shrub that can be grown in USDA Plant Hardiness Zones 4B through 4B. It matures to an average height of 5 feet to 6 feet and an average width of 4 feet to 6 feet, depending on climate and other environmental factors. It prefers growing in a location that provides full sun and grows best when planted in sand soil that is well drained. The foliage is yellow in color. It attracts visual attention and is resistant to deer. If you like fragrance, Juniperus Pfitzeriana 'Sea Green' has fragrant foliage.

Sea Green Juniper can be useful in the landscape along woodland borders and also in rock or xeriscape gardens.
More about the Sea Green juniper...
Noteworthy Characteristics
The Sea Green Juniper grows in an upright vase shape with branches that grow up and out to a height of about 6 feet. The sea green color foliage provides a unique texture and contrasts nicely with other plants in the landscape.
Uses
The Sea Green Juniper is most often used as a mid-size natural hedge but can also be trimmed to form a "pompon" topiary that has several arms with balls of foliage at the ends.
Culture & Care Tips
Plant the Sea Green Juniper in locations that provide well-drained soil and plenty of sun. No pruning necessary hoever responds well to shearing for hedges or topiary forms.
---

Helpful Planting & Care Tips Provided By Our Experts...
---
Put Abundant Color in Your Landscape Year Round With...

Works great with: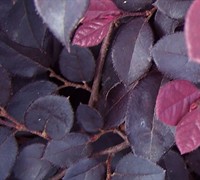 Purple Pixie Loropetalum
$48.97
$34.97
New Arrivals at Gardener Direct: