Product Details
Thuja Standishii X Plicata 'Green Giant' is a fast growing tree that can be grown in USDA Plant Hardiness Zones 5A through 5A. It matures to an average height of 40 feet to 50 feet and an average width of 10 feet to 15 feet, depending on climate and other environmental factors. It prefers growing in a location that provides full sun and grows best when planted in sand soil that is well drained. The foliage is dark green in color. It attracts wildlife and is resistant to deer.

Green Giant Arborvitae can be useful in the landscape along woodland borders and also in theme gardens.

More about Green Giant Arborvitae...
Noteworthy Characteristics
Green Giant Arborvitae is a fast growing evergreen conifer perfect for creating a tall screen or buffer. Once the root system becomes established in the first growing season rapid growth will be the result in subsequent seasons. In some cases you can expect 24 inches of growth in a single season and, in some cases, even more. At maturity this narrow, pyramidal growing conifer will reach 40 to 50 feet tall and 10 to 15 feet wide.
Uses
Most often utilized as a screening tree, to block unwanted views, dampen sound, and as a windbreak, Green Giant can also be useful as a stand alone specimen or on the corners of tall buildings or other structures
Culture & Care
Green Giant Arborvitae prefers a well draining slightly acidic soil and plenty of sunshine but will tolerate a little shade. It requires no pruning and is quite drought tolerant when established. Fertilize in spring and again in late summer with a well-balanced shrub and tree type fertilizer. Avoid planting underneath powerlines. It is very deer resistant.
---
Helpful Planting & Care Tips Provided By Our Experts...
---
Put Abundant Color in Your Landscape Year Round With...
---


Works great with: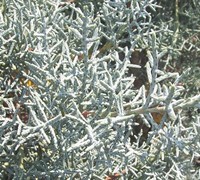 Blue Ice Cypress
$32.99
$24.97
Little Gem Dwarf Southern Magnolia
$88.97
$62.97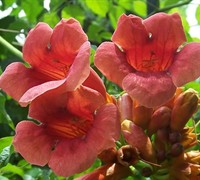 Madame Galen Trumpet Vine - Campsis tagliabuana
$18.97
$12.97
Slender Hinoki Cypress
$32.99
$24.97
New Arrivals at Gardener Direct: