Product Details

More about Reeves Bridal Wreath Spirea...
Noteworthy Characteristics
Reeves Spirea is a hardy and long-lived old-fashioned favorite that produces an abundance of small white flower clusters that nearly cover the graceful, arching branches in spring. It is a low maintenance plant and exceptionally drought tolerant when established.
Uses
Bridal Wreath Spirea is useful in flowering shrub borders or as a specimen anywhere in the sunny landscape. It can also be useful as a mid-size hedge, though the plant is deciduous.
Culture & Care Tips
Reeves Spirea is exceptionally easy to grow in well-drained soils and full sun. Light shade is tolerated. Very drought tolerant once established. Can be pruned after flowering in spring.
---

Helpful Planting & Care Tips Provided By Our Experts...
---
Put Abundant Color in Your Landscape Year Round With...

Works great with: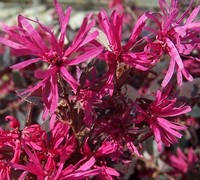 Purple Diamond Loropetalum
$44.99
$39.97
Customer Reviews
5
out of 5 stars from
1
total customer reviews
1 reviews
0 reviews
0 reviews
0 reviews
0 reviews
Most Helpful Reviews
I love my new Reeves Bridal Wreath Spirea
April 18th 2014
by Elaine - Wilmington, North Carolina
It has been planted and thriving in my back yard. It has already grown a bit and also put forth a few flowers (even though it is still so new).
New Arrivals at Gardener Direct: