Product Details
More about Bluebird Hydrangea...
Noteworthy Characteristics
Bluebird is a lacecap hydrangea that has a spectacular lacecap bloom. A ring of light lavender-blue florets surround the large cluster of rich blue flowers in the center. The flowers will bloom a stronger blue in acid soils. Aluminum sulfate can be applied to increase the acidity of the soil. The leaves of Bluebird Hydrangea are large and bright green in color, and are an attractive red in fall.
Uses
Bluebird Hydrangea is an excellent selection for use in a woodland border, as an accent plant, or just about any spot in the landscape that gets morning sun or filtered sun.
Culture & Care Tips
Bluebird hydrangea will tolerate various types of soils but do best in well-drained, humus-rich, slightly acidic soil. In the warmer climate of the South you'll want to give them some afternoon shade. In the North they can get by with less shade. Keep in mind that too much shade may reduce the size and number of flower panicles and the intensity of their fall foliage color.
---

Helpful Planting & Care Tips Provided By Our Experts...
How To Plant a Shrub in a Container or Pot
How To Fertilize And Water Hydrangeas
---
Put Abundant Color in Your Landscape Year Round With...

Works great with: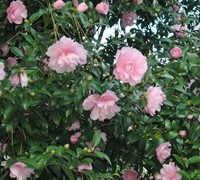 Cotton Candy Camellia Sasanqua
$41.97
$29.97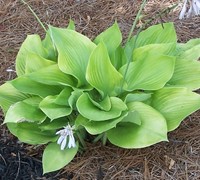 Sum And Substance Hosta Lily
$24.99
$19.97
Autumn Fern
$29.99
$26.97
Soft Caress Mahonia
$24.99
$19.97
New Arrivals at Gardener Direct: