More about Empress of China® Dogwood ...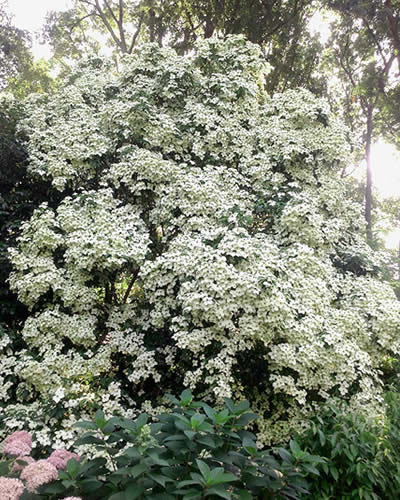 Chinese evergreen dogwoods (Cornus angustata) are a relatively new group of landscape trees. Although they've been around since the 1990's, they arent widely seen in yards, partly because many selections lack the floriferous quality of deciduous varieties. But that's likely to change with the Southern Living Plant Collection introduction of a new variety that offers both an abundance of flowers, evergreen foliage, and a vigorous growth habit. 'Empress of China' is a hardy evergreen Chinese dogwood with a graceful, yet vigorous growth rate and loads of flowers - up to 150 flowers per branch!
Empress of China grows vigorously up to 18 feet tall and 15 feet wide. The flowers start bright green and open to white, blooming over an extended period of time from May until early July! Translucent, strawberry-like fruits follow that provide winter interest and are a favorite food of birds. Last year, the leaves on ours Empress of China remained bright green all the way through November. They remained on the tree, gradually turning reddish-purple until spring when new growth eventually pushed off the old leaves.
Uses
Empress of China can be grown as a large shrub or "limbed up" to form a small, attractive speciment tree. Because it's an evergreen, Empress of China is also suitable for use in partially shaded to shaded areas as a buffer or screen to block out unwanted views. In a small, intimate space where an enclosed feeling is desired, the spreading branches can provide a pleasant "roof." (Some pruning of the lowest branches might be necessary for this use.) Shade over a low deck or patio can also be a good use. Dogwoods always fit perfectly in the edges of woodland borders.
Culture
Empress of China likes morning sun but will appreciate some shelter from the hot afternoon summer sun. It prefers a moist but well-drained acid soil that is rich in organic matter. Your newly planted tree will NOT require watering every day. Doing so usually results in constantly soggy soil, which can be a killer. It's always best to water deeply less frequently than to splash just a little or too much water every day. Once established Empress of China is quite drought tolerant. It is resistant to most of the maladies that have become so common in our native dogwoods.
How To Stake A Newly Planted Tree