More About the Double Flowering Pomegranate...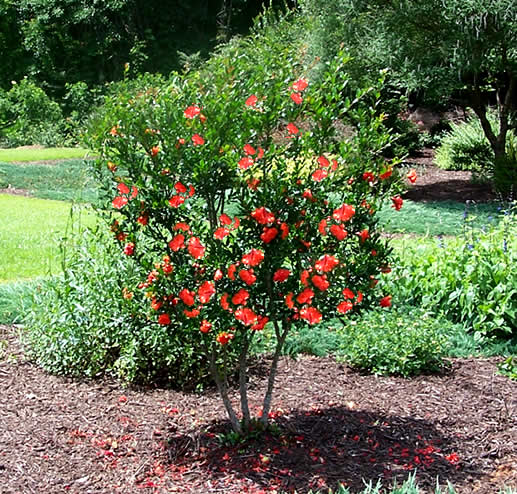 Noteworthy Characteristics
An orange flowering tree? Yes! We've had the Double Flowering Pomegranate growing in our gardens now for over 10 years and it continues to please the eyes summer after summer. In our gardens, it produces an abundance of eyecatching, carnation-like, firey-orange 3" wide blooms from late May through mid- to late-summer, depending on the weather. It produces no fruit...at least not for us. All grown up, you can expect a height of about 10 to 15 feet or so with a spread of maybe 6-10 feet, making it a great selection for smaller gardens or garden spaces. In USDA Zones north of 7B it can be grown in pots outdoors that can be brought indoors during the winter months.
Uses
In USDA ZOnes 7b to 11, the Double Flowering Pomegranate makes a spectacular specimen plant in the garden and can be grown as a large shrub or small tree, but we like it much better as in a tree form. It could also be used as a colorful hedge however does lose it's leaves during the winter. In USDA Zones north of 7b, it can be grown in containers that can be brought indoors for overwintering.
Culture & Care Tips
The double Flowering Pomegranate is fast growing and easy to grow in USDA Zones 7b-11. It prefers full to mostly sun and a well-drained soil. Constantly soggy or wet soil can cause problems with the roots. Water enough during the first growing season to keep soil moist but not wet. Has good drought tolerance when established. Does not require pruning however can be "limbed up" to form an attractive small tree and can be pruned to shape or to remove stray or damaged branches. See more planting and care details below.