Product Details
Spiraea Bumalda 'BL0601' is a moderate growing shrub that can be grown in USDA Plant Hardiness Zones 5A through 5A. It matures to an average height of 2 feet to 3 feet and an average width of 2 feet to 3 feet, depending on climate and other environmental factors. It prefers growing in a location that provides full sun and grows best when planted in sand soil that is well drained. In the spring Little Bonnie Spirea produces rose pink flowers. The foliage is dark green in color. It attracts butterflies and is resistant to drought.

Little Bonnie Spirea can be useful in the landscape in mass plantings and also in theme gardens.
More about Little Bonnie Dwarf Spirea...
Noteworthy Characteristics
Little Bonnie Spirea is a great choice for the deep South and any USDA Hardiness Zone as far north as Zone 5A. Unlike most other Spirea, it's attractive blue-green foliage doesn't burn out with the heat of summer. Little Bonnie produces an abundance of fuzzy lavender-pink spring blooms, and continues to bloom sporadically throughout the summer. For heavier bloom cycles simply trim off the old spent blooms and or re-shape the plant lightly.
Uses
Little Bonnie spirea is useful in the landscape as an accent plant, in small small to large groupings or as a border in landscape beds, islands and foundation plantings. It combines very nicely with plants and trees that have dark green or burgundy to purple foliage.
Culture & Care Tips
Little Bonnie spirea is exceptionally easy to grow when planted in well-drained somewhat loose soils and full sun. It is a low-maintenance plant that will grow in a wide range of well-drained soils. Very drought tolerant once established.
---

Helpful Planting & Care Tips Provided By Our Experts...
---
Put Abundant Color in Your Landscape Year Round With...

Works great with: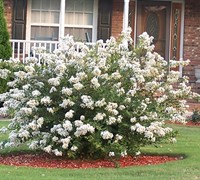 Acoma Crape Myrtle
$57.97
$40.97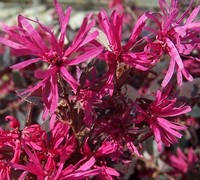 Purple Diamond Loropetalum
$44.99
$39.97
Blue Rug Juniper
$29.99
$19.97
Customer Reviews
5
out of 5 stars from
1
total customer reviews
1 reviews
0 reviews
0 reviews
0 reviews
0 reviews
Most Helpful Reviews
Very pretty Plant
April 25th 2014
by Samuel - Kingwood, Texas
Arrived without so much as a broken leaf. Can't wait for it bloom
New Arrivals at Gardener Direct: