Product Details
More about Sunshine Blue Dwarf Blueberry...
SELF-POLLINATING so you only have to plant ONE!

Noteworthy Characteristics
Sunshine Blue is a new dwarf selection that does not require a pollinator! But the great attributes don't stop there. It is a dwarf with a rounded, semi-dwarf form only 3- to 4-feet high and wide, making it a great choice for containers that can be set on patios, proches or decks for easy picking. The glossy silvery-green leaves are semi-evergreen and turn to a vidi purple-red in fall. In spring, masses of pink flowers (instead of the white typical of Blueberries) are followed by lots of tasty, blue berries. Each established plant produces from 5 to 10 pounds of delicious, sweet and juicy, dime-size, dark blue berries.
Because it's self-pollinating, which means you only need one plant, and more tolerant than most of high pH, 'Sunshine Blue' is an exceptionally easy plant to grow. It's a southern highbush type requiring only 150 chillhours so is perfect for the South. That being said, it's hardy as far north as Chicago and New York!
Uses
Sunshine Blue makes for a perfect landscape or patio plant, as a low hedge, in groupings, as an accent plant.
Culture & Care Tips
Providing enough water to keep the soil moist but not wet, a little spring fertilizer, and some light pruning in winter is all Sunshine Blue needs to perform well.

---
Helpful Planting & Care Tips Provided By Our Experts...
How To Fertilize A Blueberry Bush
---
Put Abundant Color in Your Landscape Year Round With...

Works great with: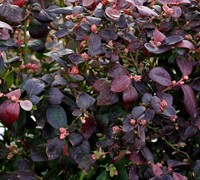 Peach Sorbet Dwarf Blueberry
$39.97
$27.97
Customer Reviews
5
out of 5 stars from
1
total customer reviews
1 reviews
0 reviews
0 reviews
0 reviews
0 reviews
Most Helpful Reviews
Beautiful!!!
May 6th 2015
by Sandra - Mandeville, Louisiana
I'm always impressed by the quality and beauty of Gardener Directs plants. These Sunshine Blue Dwarf Blueberry Bushes were outstanding.
Reply from Gardener Direct:
Hi Sandra - Thanks so much for taking the time to provide us and visitors to Gardener Direct with your review. We're happy to hear that you were again pleased with the quality of our plants, and the Sunshine Blue Blueberry you purchased this time. We've got this self-pollinating dwarf growing in both containers and garden beds in our gardens. It's a newer introduction so time will tell as to overall performance. But, so far so good...the plants in our gardens look very healthy, bloomed nicely this year, and are setting fruit. Let us know if there's ever anything else we can do for you. We're at your service!
New Arrivals at Gardener Direct: