Product Details
More About Emerald Goddess Liriope...
The vigorous, fast-growing Emerald Goddess® has taller flowers that are showier and bloom earlier and for longer than other varieties. The flowers are pinkish-lavender in color and are produced over a 4 month period of time from early summer to early fall. Foliage stays more upright during the winter and is very resitant to fungal diseases. Also has better heat and cold tolerance and grows in full sun or full shade!
USDA Zone: 5-11
Size: 18"H x 18-24"W
Sun Exposure: Full Sun or Full Shade!
Soil / Moisture: Moist, well-drained
Tolerances: Heat, Insect, Disease, Deer
Attracts: Birds
Uses & Styles: Bird Gardens, Borders, Container, Groupings, Japanese Gardens, Mass Planting, Ornamental Grass Garden
---
Helpful Related Articles Provided by Our Experts
How To Plant And Care For Ornamental Grasses
---

Works great with:
Evergreen Giant Liriope
$24.99
$19.97
Big Blue Monkey Grass
$26.97
$18.97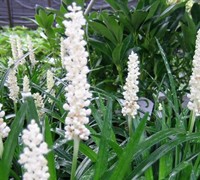 Monroe White Liriope
$100.97
$71.97
Variegated Liriope
$26.97
$18.97
New Arrivals at Gardener Direct: