Product Details
Rhododendron Indica 'George Tabor' is a fast growing shrub that can be grown in USDA Plant Hardiness Zones 7B through 7B. It matures to an average height of 6 feet to 8 feet and an average width of 6 feet to 8 feet, depending on climate and other environmental factors. It prefers growing in a location that provides full sun and grows best when planted in sand soil that is well drained. In the spring George Tabor Azalea produces white flowers. The foliage is medium green in color. It attracts wildlife and is resistant to drought.

George Tabor Azalea can be useful in the landscape along woodland borders and also in theme gardens.
More about George Taber Azalea...
.
Noteworthy Characteristics
The George Taber Azalea is one of the best of the sun and heat-tolerant evergreen Southern India Azaleas. Grows more rapidly than other types of azaleas to 8 feet tall with an equal spread. In spring, large, white flowers striped in pinkish-purple nearly cover the foliage.
Uses
George Taber Azalea is most useful as a natural hedge or in small to large groupings in landscape beds. Performs exceptionally well under tall pine trees. Also useful in home foundation plantings, espalier (grown flat against a wall), or "limbed up" to be a small tree for containers or garden beds.
Culture & Care Tips
Azaleas prefer a well draining, moist and acidic soil rich in organic matter. With the exception of Southern Indica and Encore Azaleas, most azaleas prefer some shade or filtered sun during the hottest part of the day. Follow the links below for expert planting and care tips.
---

Helpful Planting & Care Tips Provided By Our Experts...
How To Plant An Azalea Shrub
How To Prune Evergreen Azalea Shrubs
How To Fertilize And Water Azalea Shrubs
---
Put Abundant Color in Your Landscape Year Round With...

Works great with: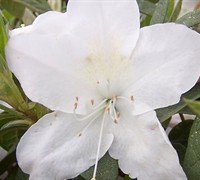 Mrs. G.G. Gerbing Southern Indica Azalea
$54.97
$38.97
Judge Solomon Southern Indica Azalea
$26.97
$18.97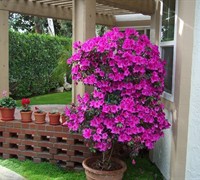 Formosa Southern Indica Azalea
$43.99
$39.97
Customer Reviews
4.89
out of 5 stars from
9
total customer reviews
8 reviews
1 reviews
0 reviews
0 reviews
0 reviews
Most Helpful Reviews
Gorgeous
March 8th 2016
by Nina - Memphis, TN
Plants are gorgeous! They arrived in good condition and i couldn't be happier! Thank you togogarden.com!
George Taber Southern Indica Azalea Customer Review
March 24th 2015
by Georgia - Charlotte, NC
Beautiful, healthy plants! I am enjoying them in my garden!
George Taber Southern Indica Azalea Customer Review
February 18th 2015
by Tara - Peachtree City, GA
Great plants. Looked nice when arrived, packed safe. Can't beat the price and convenience.
Great price
April 22nd 2014
by Ricky - Athens, AL
Azaleas look great. They were delivered without damage and very healthy. Great price. I will order again from togogarden.com
azaleas
October 10th 2013
by Gary - Greensboro, NC
Want to thank ToGoGarden.com for the healthy plants i received. They were very full and lush. Impressed with the size and quality. Very happy and will order again in the future! Thank you.
George Taber Southern Indica Azalea Customer Review
August 5th 2013
by Dave - Asheville, NC
Plants i ordered arrived in great shape! They were packed securely and could tell care was put into the order and packing. Plant to order more very soon. Thanks!
George Taber Southern Indica Azalea Customer Review
July 9th 2013
by Dianna - Montgomery, AL
My Azalea's are beautiful! They arrived without a hitch! Very healthy and even look better than the ones i could buy at my local nurser! Impress with the price and quality! I will order from ToGoGarden.com again!
George Taber Southern Indica Azalea Customer Review
May 19th 2011
by Linda - Bastrop, TX
Looked all over for these plants locally! I was happy when i found them (and at a great price i might add) online! The were delivered fast and looked so healthy!! Very pleased!!! I will order more plants from you in the future!
Azalea
February 22nd 2011
by April - Perry, GA
Happy with service and quality of plants. Azaleas are doing well.
New Arrivals at Gardener Direct: