Product Details
Acer Palmatum 'Fjellheim' is a slow growing tree that can be grown in USDA Plant Hardiness Zones 6A through 6A. It matures to an average height of 6 feet to 8 feet and an average width of 4 feet to 6 feet, depending on climate and other environmental factors. It prefers growing in a location that provides full sun and grows best when planted in loam soil that is well drained. The foliage is yellow in color. It attracts visual attention and is resistant to deer.

Fjellheim Japanese Maple can be useful in the landscape along woodland borders and also in theme gardens.
More about our Japanese Maples...
Gardener Direct offers over 150 outstanding and unique varieties of Japanese Maple. We are testing and adding new varieties every year. Our container-grown maples are expertly grown from grafts with the utmost care. Before we offer them for sale, plants are fully rooted and well-branched in 2, 3 or 5 gallon containers.
To determine hardiness and overall performance in the landscape, each variety of Japanese Maple has been field-tested in our trial gardens here in mid-Georgia. This means you can count on the the information we provide.
---
About Dwarf Coral Bark Japanese Maple...
If you like the Coral Bark Japanese Maple but don't have room for it, meet Fjellheim - he's the dwarf cousin that can fit in much smaller spaces! So, how do you say "Fjellheim"? Well, the "j" is silent...so it goes like this: "FELL-Hime." Anyway, we just call it the Dwarf Coral Bark Maple...and it is a dwarf - growing to only 8 feet tall by about half that in width. Just as with its larger cousin, the stems and branches turn an outstanding coral-red color when cooler weather sets in for the winter. In spring, lime green leaves emerge that contrast beautifully with coral bark. Yellow fall foliage. Will tolerate more sun than other varieties.
Culture & Care
When provided the right environment in the landscape Japanese Maples are very easy to grow and care for, and long lived.
Soil - Japanese maples adapt well to many soil types provided there is good drainage. Consistently wet or soggy soils can be a killer.
Sun - Some varieties will tolerate full sun. However, in their natural habitat, Japanese Maples are understory trees, growing in dappled forest sunlight and at the edges of partially shaded woodlands. Ideally they prefer to be grown in similar conditions, especially in the warmer climate of the Deep South.
Pruning - When a specific variety of Japanese maple is planted in the right size space; where it have room to grow to mature size, rarely will it require pruning. That beings said, removal of damaged or stray branches that spoil the form of the tree can be performed almost any time of year. Heavy or major pruning is best left to professionals. If you hire someone to prune your Japanese maple make sure he/she has the credentials and ALWAYS check references.
Water - During the first two summers after planting a Japanese Maple, make sure to water enough to keep soil damp but not soggy. Constantly wet feet can cause serious problems. Proper planting method can ensure proper drainage over the long term.
Planting Your Japanese Maple
SEE: Detailed Planting Instructions For How To Plant A Japanese Maple in the Ground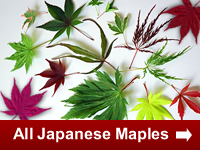 Works great with:
Flirt Dwarf Nandina
$29.97
$20.97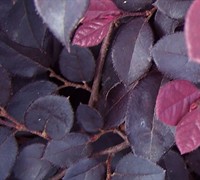 Purple Pixie Loropetalum
$48.97
$34.97
Blue Rug Juniper
$29.99
$19.97
Dwarf Mondo Grass
$69.99
$54.97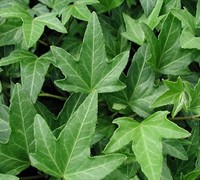 Needlepoint Ivy
$89.99
$69.97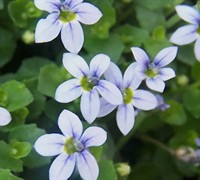 Blue Stars Creeper
$29.99
$24.97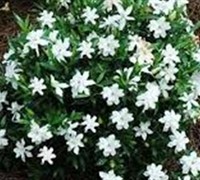 Creeping Dwarf Gardenia
$48.97
$43.97
Big Blue Monkey Grass
$26.97
$18.97
New Arrivals at Gardener Direct: