Product Details
More about Golden Rocket Barberry...
Noteworthy Characteristics
Unlike most other barberry, Golden Rocket has an upright columnar habit, ultimately reaching about 5 feet in height with 2 foot spread in ten years with very tight growth. Vibrant chartreuse foliage emerges in spring turning more golden in summer and then to orange-red in fall! Coral colored stems contrast nicely with the bright foliage. In early summer, inconspicuous pale yellow flowers produce small, crimson red berries in fall.
Uses
It's narrow, columnar habit and spectacular display of color through the season make Golden Rocket an excellent choice for a single specimen in smaller gardens, those narrow spots in home foundation plantings, as a narrow hedge, and in Asian theme gardens.
Culture & Care Tips
Plant Golden Rocket Barberry in full sun to produce the best color. It tolerates a wide variety of soil types but prefers a deep, moist but well-drained soil. During the first growing season, water enough to keep soil moist but not constantly soggy. After that, the plant is quite drought tolerant. No pruning necessary though can be lightly trimmed in late winter or early spring. Feed in spring with a well-balanced shrub and tree food.
---

Helpful Planting & Care Tips Provided By Our Experts...
---
Put Abundant Color in Your Landscape Year Round With...

Works great with:
Bar Harbor Juniper
$24.99
$19.97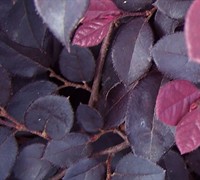 Purple Pixie Loropetalum
$48.97
$34.97
Pink Muhly Grass
$24.99
$19.97
New Arrivals at Gardener Direct: