Product Details
---
More about Rosy Glow Barberry...
Rose Glow Barberry features brilliant rosy-pink new growth on top of deep purplish-red foliage throughout the season.
Rosy Glow is an exceptionally easy to grow, low-maintenance plant. Plant it in well-drained soils that have average fertility. Adapts to many soil types. For best color pick a spot that will provide it full to mostly sun throughout the day. It does produce small spines along the branches, but you'll never have to touch it as no pruning is necessary!
An exceptionally drought and heat tolerant shrub that we like to use an accent, formal or informal hedge, or in small to large groups in landscape beds and islands. Great for use to keep the neighbors pets out of your yard!
---
Works great with: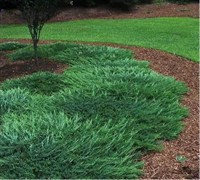 Bar Harbor Juniper
(2)
$26.99
$19.97
Customer Reviews
(1)
5
out of 5 stars from
1
total reviews
1 reviews
0 reviews
0 reviews
0 reviews
0 reviews
Most Helpful Reviews
Fine Service
September 2nd 2012
by Bill - Greer, SC
All plants arrived in execellent shape. They were packed in the box with care and arrived without damage. I will place another order soon. Thanks for the fine service.
New Arrivals at Gardener Direct: