Product Details
More about Hilda Niblet Azalea...
Noteworthy Characteristics
Named PLANT OF THE YEAR by the American Rhododendron Society in 2005! Hilda Niblett produces some of the most exciting, eyecatching flowers of any azalea. Large flowers in various shades and overtones of light pink to peachy pink are produced over a long bloom period from early spring to early summer. A low growing azalea with a spreading, mounding habit and deep green foliage.
Uses
Hilda Niblet is excellent for use in small to large groupings in landscape beds and islands or as an accent in smaller gardens or medium to large containers.
Culture & Care Tips
Azaleas prefer a well draining, moist and acidic soil rich in organic matter. With the exception of Southern Indica and Encore Azaleas, most azaleas prefer some shade or filtered sun during the hottest part of the day. Follow the links below for expert planting and care tips.
---
Helpful Planting & Care Tips Provided By Our Experts...
How To Plant An Azalea Shrub
How To Prune Evergreen Azalea Shrubs
How To Fertilize And Water Azalea Shrubs
---
Put Abundant Color in Your Landscape Year Round With...
Works great with: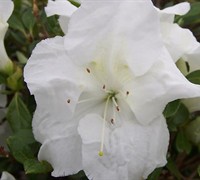 Autumn Angel™ Encore® Azalea
(9)
$29.99
$24.97
Autumn Coral™ Encore® Azalea
(5)
$31.92
$29.97
Customer Reviews
(10)
4.7
out of 5 stars from
10
total reviews
8 reviews
1 reviews
1 reviews
0 reviews
0 reviews
Most Helpful Reviews
This azalea is a wonderful plant
September 10th 2016
by Beverly - Oak Island, North Carolina
I had this Azalea when I lived in the NC mts. brought slips to the beach and they have done well large blossom after the other azaleas are through blooming . They are low growing and fill in their space . Don't know why they aren't more available. The ones I recently bought one died and the other is struggling. Very root bound :( They need high shade .
Photos don't do it justice...
August 8th 2014
by Robert - Spring Valley, New York
I was so happy with my first shipment of these lovely azaleas that I had to order a few more. As before, the plants arrived in perfect condition, very vigorous and healthy. The first shipment bloomed after I planted them and the colors are really breathtaking. I specifically ordered this variety as they do not grow tall, and these are now growing in front of a boxwood hedge. The blooms contrast nicely with that rich green backdrop. I'm sure they'll be gorgeous as they spread out with new growth. Just need to discourage the deer population as these tender azaleas probably taste as good as they look! I've been spraying them with deer repellent diligently and keeping my fingers crossed. I'd hate to lose these beauties. I really appreciate the quick shipment too. Thanks so much for the fine service.
Reply from Gardener Direct:
Hi Robert - We are very happy to hear that the plants arrived safely and that the quality met your approval. We certainly appreciate you taking the time to provide us and our visitors with your review. Our own gardens are often visited by deer...and we know how much they like azaleas...particularly the flower buds. In unprotected areas of our gardens, we've been using a product called 'Deer Stop' this year (2014) and it has worked better than any other product we've tried in the past. And it actually smells good! We sprayed it around some Hosta lilies and the deer haven't touched them since. Based on the positive results we've had with this product we should making it available very soon in GardenerDirect.
Excellent quality at a great price
May 20th 2014
by Robert - Spring Valley, New York
I had been searching for these Hilda Niblett Azaleas, one of the famous Robin Hill series, for a long time.... I needed a variety that does NOT grow tall, and the flower color is so unique. Everywhere else I looked, they were either sold out or just did not carry this azalea. I was so happy to finally find it at Gardener Direct, but I was apprehensive about the shipping cost for ten plants. Needless to say, the shipping cost for ten potted Hilda Niblett azaleas that were a very generous size, was very reasonable. The plants arrived very quickly and in perfect health, except for one plant that suffered a couple of broken branches. This was not a problem, as I'm sure the plant will fill in over time, especially in view of the obvious vitality of the plant. Each of them bears a full complement of healthy, shiny green leaves and even had some flower buds, which have now blossomed and are lovely, just as pictured. I planted them the day after they arrived, and they look beautiful. I am just so surprised and pleased to find the exact variety of azalea that I wanted at an affordable cost, including shipping. If I had shopped at a local nursery, I would have had to take whatever variety they had in stock, but I got exactly what I wanted. I'm not sure of their deer resistance, so I thoroughly sprayed them with a repellent, and will continue to do so, as deer browsing is rampant in my area, here in south eastern New York. I'm going to always visit Gardener Direct's web site whenever I'm searching for something unusual and specific, from now on.
Reply from Gardener Direct:
Hi Robert - Thanks so much for the compliments on the plants! To get such feedback makes everything we do even more worth the while. We too have a deer problem in our gardens here in mid Georgia. We are currently testing a deer repellent product called Deer Stopper, made by Messina, which so far has worked better than any other product we've tried in the past....and it smells great! We are planning to add Deer Stopper to the list of products we offer on GardenerDirect, hopefully by June 2014. Also, we feed all our plants with Milorganite or Nitroganic fertilizers, which help to repel the deer. Let us know if there's ever anything else we can help you with.
The plant came in a very good condition.
May 12th 2014
by Maja - Stony Brook, New York
I was happy with the plant and shipment.
GARDEN CENTER QUALITY
May 7th 2014
by Fred - Merrimack, New Hampshire
It was so nice to receive my monies worth with giant healthy plants. After dealing with the Big names in the business for years and receiving less than desirable plants it was great to get plants that I was proud to plant. Great care in handling and shipping, nice selection in stock and arrived when I requested them.
Reply from Gardener Direct:
Hi Fred - Thanks so much for the compliments! We advertise garden center quality plants and that's what we ship. Our consciences will not allow us to ship tiny little shrubs in tiny little pots or bare root, which would need to be potted to a larger container and grown out for a year before they could be safely planted in the landscape or garden. Enjoy your Hilda Niblets!
Hilda Niblett Azalea
April 30th 2014
by Charlotte - East Meadow, New York
Shipped quickly and arrived in excellent condition. I've recommended Gardener Direct to friends and neighbors.
GREAT PURCHASE
April 14th 2014
by Ellen - Wake Forest, North Carolina
THESE AZALEAS WERE SHIPPED QUICKLY AND WERE WELL PACKED. WE WERE VERY PLEASED WITH THE SIZE AND CONDITION OF THESE PLANTS. WELL DONE!
Beautiful Plant, Great colors
April 11th 2014
by Cecily - McDonough, Georgia
Love the colors and the plant. Works great in my woodland garden!
Online plant order
April 12th 2014
by Boris - Easley, South Carolina
The azaleas ordered were true to name, well packaged, good sized for plants to be shipped and arrived by desired time. Most importantly, ~ my wife was happy.
Hilda Niblett
August 3rd 2014
by Camelia - Hartwell, Georgia
We have wanted a Hilda Niblet for years . We ordered 2,one died so we are praying the last one will make it.Service was great!!
Reply from Gardener Direct:
Hi Camelia - Much appreciation from GardenerDirect for taking the time to provide your review. Being the plant lovers we are it's always sad to hear about a plant that didn't make it. In order to further help you and our customers in the future we like to try to figure out why the plant didn't make it. We will have no problem giving you a store credit or sending you a replacement. If you can send us a picture of the plant and some details about the planting site, after-care, and about how the plant declined (how quickly or slowly the plant died) we would certainly appreciate it and will use this information to try to diagnosis the problem and provide a remedy if necessary. You can send pictures to team@gardenerdirect.com. Let us know if there's ever anything else we can help you with in the future.
New Arrivals at Gardener Direct: