Product Details
More about Formosa Southern Indica Azalea...
Noteworthy Characteristics
The Formosa Azalea is one of the best of the sun and heat-tolerant Southern India Azaleas. It grows more rapidly than other types of azaleas to 8 feet tall with an equal spread. In spring, large, purple trumpet-shape flowers nearly cover the dark green evergreen foliage.
Uses
Formosa Azalea is most useful as a natural hedge or in small to large groupings in landscape beds. Performs exceptionally well under tall pine trees. Also useful in home foundation plantings, espalier (grown flat against a wall), or "limbed up" to be a small tree for containers or garden beds.
Culture & Care Tips
Azaleas prefer a well draining, moist and acidic soil rich in organic matter. As one of the Southern Indica Azaleas, Formosa will tolerate full sun to part shade. That being said, some dappled sun or shade during the hottest part of summer afternoons would be appreciated.
---
Helpful Planting & Care Tips Provided By Our Experts...
How To Plant An Azalea Shrub
How To Prune Evergreen Azalea Shrubs
How To Fertilize And Water Azalea Shrubs
---
Put Abundant Color in Your Landscape Year Round With...
Works great with:
George Taber Southern Indica Azalea
(9)
$24.99
$19.97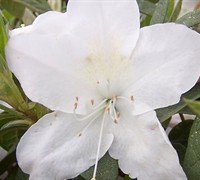 Mrs. G.G. Gerbing Southern Indica Azalea
(1)
$24.99
$19.97
Judge Solomon Southern Indica Azalea
(1)
$23.99
$17.97
Customer Reviews
(2)
5
out of 5 stars from
2
total reviews
2 reviews
0 reviews
0 reviews
0 reviews
0 reviews
Most Helpful Reviews
Very happy with service and quality
May 9th 2013
by Julie - Florida
Just wanted to let you know how pleased I am with my order that I received from you today. I ordered a Formosa Southern Indica Azalea last Thurs. and it came today. It was very healthy, bushy and in excellent condition. I'm always afraid to order plants through mail order because I'm never sure what I'm getting, but in this case I couldn't be happier. I will most definitely be ordering from you again. People always write letters with complaints, but I wanted to let you know that this customer is very happy with the service and quality of the plant received.
Review of 1 gallon Formosa Azalea
December 24th 2012
by Rick - Spring, TX United States
ervice was quick and the plants were in great shape and very healthy.
New Arrivals at Gardener Direct: