Product Details
Pittosporum Tobira 'Mojo® PP16188' is a moderate growing shrub that can be grown in USDA Plant Hardiness Zones 7A through 11. It matures to an average height of 2 feet to 3 feet and an average width of 2 feet to 3 feet, depending on climate and other environmental factors. It prefers growing in a location that provides full sun, morning sun with afternoon shade or morning shade with afternoon sun and grows best when planted in sand, loam, clay or silt soil that is well drained. In the spring Mojo Dwarf Variegated Pittosporum produces white flowers. The foliage is yellow and dark green in color. It attracts visual attention and is resistant to deer, drought, insects, diseases, mildew, heat and salty soil and/or spray. If you like fragrance, Pittosporum Tobira 'Mojo® PP16188' has fragrant flowers.

Mojo Dwarf Variegated Pittosporum can be useful in the landscape in mass plantings, in foundation plantings, in shrub borders, around decks, swimming pools, and other outdoor living areas, as an accent, in landscape beds or islands, to accentuate entryways, as a hedge or in medians and also in theme gardens.

More About Mojo Pittosporum...
Noteworthy Characteristics
'Mojo' Pittosporum, Pittosporum tobira, is a small, dense, mounding, evergreen shrub with outstanding glossy, variegated green leaves that have a creamy yellow border. 'Mojo' adds a little tropical flare to the garden through its foliage, and can reach 2 to 3 feet in height with a 3 foot spread. It is a great plant to use when a short foundation plant is needed, and also produces small, creamy white, orange blossom scented, flowers in late spring.
Uses
Mojo Pittosporum prefers a well-drained loose soil and full sun to partial shade. Excellent salt tolerance makes it a perfect choice for use in coastal gardens.
Culture & Care Tips
Easy to grow in well-drained loose soils and full sun to partial shade. It is exceptionally heat and drought tolerant when established. No pruning necessary.
---
Helpful Planting & Care Tips Provided By Our Experts...
---
Put Abundant Color in Your Landscape Year Round With...
Works great with: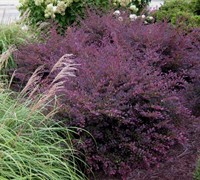 Purple DiamondĀ® Loropetalum
(6)
$32.99
$23.97
Blue Rug Juniper
(1)
$29.99
$19.97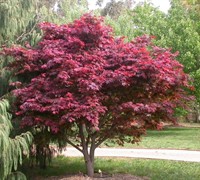 Hefner's Red Select Japanese Maple
$109.99
$89.97
New Arrivals at Gardener Direct: