Product Details
Pennisetum Purpureum 'Princess Caroline' is a fast growing ornamental grass, annual bedding and perennial plant that can be grown in USDA Plant Hardiness Zones 8A through 10B. It matures to an average height of 3 feet to 4 feet and an average width of 3 feet to 4 feet, depending on climate and other environmental factors. It prefers growing in a location that provides full sun, morning sun with afternoon shade or morning shade with afternoon sun and grows best when planted in sand, loam, clay or silt soil that is well drained. The foliage is purple in color. It attracts visual attention and is resistant to deer, drought, insects, mildew and heat.

Princess Caroline Purple Fountain Grass can be useful in the landscape along woodland borders, in mass plantings, in foundation plantings, in containers or planters, as a background, in shrub borders, around decks, swimming pools, and other outdoor living areas, as an accent, as a focal point or in landscape beds or islands and also in rock or xeriscape gardens, theme gardens, cottage gardens or perennial gardens.
---
More about Princess Caroline Grass...
Finally, a hardy PURPLE fountain grass for the South! The 'Princess Caroline' Purple Fountain Grass, Pennisetum purpureum, is much hardier than Pennisetum rubrum, which is an annual in our gardens here in Zone 8 of mid-Georgia.
A shorter version of 'Princess', 'Princess Caroline' provides brilliant purple foliage on plants that reach a mature height of about 3'. With individual blades just a little wider and more boldly textured, Princess Caroline is more pendulous than the original 'Princess' but is also more disease resistant, has sturdier growth, and is more tolerant to cold, heat and humidity than any other pruple-leaved cultivar we've tested. And we've tested them all. Princerss Caroline will not flower except in total frost-free areas.
Princess Caroline Fountain Grass is exceptionally easy to grow and low-maintenance in locations that provide well-drained soils and lots of sunshine. It is a little late to emerge from dormancy in spring so don't dig it up thinking it is dead!
Our Princess Caroline Purple Fountain Grass are certified nursery-grade, container-grown plants grown and shipped in professional grade medium. We guarantee you will receive high-quality healthy plants that are ready for planting in your garden.
---
Works great with: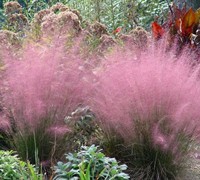 Pink Muhly Grass - Muhlenbergia capillaris
(4)
$24.99
$19.97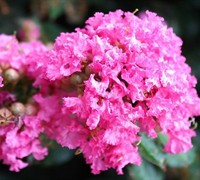 Pocomoke Dwarf Crape Myrtle
(13)
$54.99
$40.97
Green Mound Juniper - Japanese Garden Juniper
(1)
$18.99
$13.97
Customer Reviews
(1)
5
out of 5 stars from
1
total reviews
1 reviews
0 reviews
0 reviews
0 reviews
0 reviews
Most Helpful Reviews
Arrived in fabulous condition
January 23rd 2017
by Lynne - Destrehan, Louisiana
And have blossomed beautifully. They've given off calves and we've transplanted them. Thank you for your service!
New Arrivals at Gardener Direct: