Product Details
More about Variegated Pittosporum...
Noteworthy Characteristics
Variegated Pittosporum features beautiful creamy white and green variegated foliage. The flowers go unnoticed against the foliage, however they are pleasantly fragrant, perfuming your yard for weeks during spring with the sweet smell of orange blossoms. A fast growing shrub that will need some pruning if you don't provide ample space for it to grow. Mature height is 6 to 8 feet with an equal spread however plant can be kept smaller with pruning.
Uses
Variegated Pittosporum is useful in landscape beds and islands as a background, natural or formal hedge, stand-alone specimen, foundation plant, or can be "limbed up" to form a small small tree.
Culture & Care Tips
Variegated Pittosporum is easy to grow in well-drained loose soils and full sun to partial shade. It is exceptionally heat and drought tolerant when established. No pruning neceary however can be pruned to control ize, for hedge or tree form.
---
Helpful Planting & Care Tips Provided By Our Experts...
---
Put Abundant Color in Your Landscape Year Round With...
Works great with: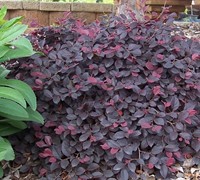 Purple Pixie® Loropetalum
(27)
$31.99
$23.97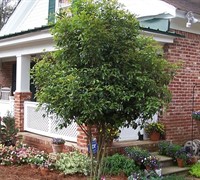 Sweet Tea Olive - Osmanthus fragrans
(13)
$29.99
$22.97
Customer Reviews
(2)
4.5
out of 5 stars from
2
total reviews
1 reviews
1 reviews
0 reviews
0 reviews
0 reviews
Most Helpful Reviews
varigated pittosporum
March 27th 2011
by archer - richmond, VA United States
the plant is beautiful and your service great. Thank you.
Variegated Pittosporum
January 19th 2012
by Anonymous - Wilkes-Barre, PA United States
I got my plant in a timely fashion and in one piece!
New Arrivals at Gardener Direct: