Product Details
---
More about Berkman's Golden Arborvitae...
Noteworthy Characteristics
Berkman's Golden Arborvitae is a very low maintenance, conical-shaped coniferous evergreen shrub that features outstanding, attractive golden foliage. Exceptionally hardy and drought tolerant when established.
Uses
Berkman's Golden Arborvoitae is excellent for use as a single specimen, in small groupings, in shrub borders, as a natural hedge, on the corners or either side of an entryway in home foundation plantings, or in containers or planters.
Culture & Care Tips
Plant the Berkman's Golden Arborvitae in a location that provides well-drained soil and full sun. Light shade is tolerated. No pruning necessary to keep it's conical form and we've seen no serious disease or insect problems.
---
Helpful Planting & Care Tips Provided By Our Experts...
How To Plant a Shrub in a Container or Pot
---
Put Abundant Color in Your Landscape Year Round With...
---
Works great with: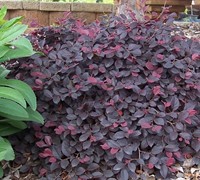 Purple Pixie® Loropetalum
(27)
$31.99
$23.97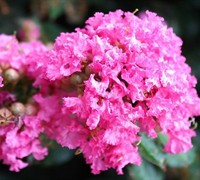 Pocomoke Dwarf Crape Myrtle
(13)
$54.99
$40.97
Customer Reviews
(2)
5
out of 5 stars from
2
total reviews
2 reviews
0 reviews
0 reviews
0 reviews
0 reviews
Most Helpful Reviews
Amazing purchase
June 18th 2014
by Marguerite - Avon, Ohio
A severe winter killed my Berkman's Gold Arborvitea. I searched nearby nurseries for a replacement without any satisfaction. Finally, I decided to risk purchasing this plant online. I am so glad I did. I received a beautiful, healthy specimen that was very carefully packed and shipped promptly to our home. I had it in the ground within the hour, and it is lovely. The color of this variety is unique and makes striking addition to my garden. I can't say enough good things about this purchase and Gardeners Direct. They are excellent!
Reply from Gardener Direct:
Hi Marguerite - We certainly appreciate your taking the time to provide a review of your experience with Gardener Direct are are very happy to hear that the Arborvitae arrived safely and that you were happy with the quality of the plant. We strive to ship only the highest quality nursery and garden center grade plants. Let us know iof there;s ever anything else we can help you with.
Berkmans Golden Arborvitae - Thuja orientalis 'Berkmans Golden' Customer Review
May 8th 2012
by Marjorie - Woonsocket, RI United States
I ordered several Berkmans Golden Arborvitae shubs from GardenerDirect. I needed a few more to match several I had gotten a two years ago. I searched all over my local area but with no luck. I found your website and the reviews were all good so took a chance to order. I must say I was more than pleased with the service, the way they came packaged and the plants are healthy and beautiful. I won't be afraid to order in the future. Thanks again.
New Arrivals at Gardener Direct: