Product Details
---
More about The Georgia Peach Rose...
From Wilson Bros. Nursery in McDonough, Georgia, comes the Georgia Peach™ Rose!
In Fall of 2010, Brooks and Brent Wilson of Wilson Bros. Nursery in Georgia were extremely excited when Georgia resident and gardener Beth Steele showed them a shrub rose in her garden that produced fully double, peachy-pink color blooms on a bush that was totally disease free.
The brothers took a cutting for propagation. By spring of 2011 the first Georgia Peach™ Rose in the Wilson Bros. Trial Garden. Right from the start, the rose quickly filled out and sent up its first flush of blooms. Sure enough, they found a double flowering pastel peachy-salmon color rose like they'd never seen before. What's more, it had a wonderful fruity fragrance to match the name they'd given it!
Over the next year the Georgia Peach Rose was observed closely. Not only did the Georgia Peach™ Shrub Rose prove to be a floriferous beauty, they also found it to be totally disease resistant, standing up to any and all the competition among low-maintenance roses. The foliage stays perfectly clean throughout the entire season. Insect resistance has been remarkable as well.
The Georgia Peach™ Rose produces an abundance of pastel peachy-pink colored blooms starting in mid-spring and then repeating throughout the season. The blooms measure 3 to 4 inches across when fully open, are fully double, and are excellent for cutting.
The shrub has an upright rounded growth habitat growing about 4 feet tall with a 3 foot spread in two years.
The Georgia Peach™ Shrub Rose is a must have low-maintenance flowering beauty for every Georgia garden...and in gardens throughout zones 5-9 in the U.S.!
---
Planting your Georgia Peach Rose
Plant the Georgia Peach Shrub Rose in a location that provides well-drained soil and all day sun to morning sun with afternoon shade.
To plant, dig a hole no deeper and two to three times the width of the root ball and fill it with water. If the hole drains within a few hours, you have good drainage. If the water is still standing 12 hours later, improve the drainage in your bed. Thoroughly mix in 25% organic matter such as mushroom compost or a good soil amendment with the soil you removed from the planting hole. If the native soil is dense or compacted heavy mix at a 50/50 ratio. Lightly loosen roots around exterior of root ball. Plant with the top edge of root ball even with or slightly above ground level to allow for settling. Pull your backfill soil mixture around the root ball in the hole, tamping as you go to remove air pockets. Water thoroughly and apply a 1 or 2inch layer of mulch.
---
Pruning your Georgia Peach Rose
Before new growth begins to emerge in late winter cut the shrub back to about 12-18" above the ground. This ensures that the plant will have a good habit and healthy blooms throughout the season. Spent blooms can be removed throught the blooming season. Discontinue pruning about 2 months before typical first frost date in your area.
---
Feeding your Georgia Peach Rose
Feed as you would other roses. We recommend using a well-balanced rose food as directed on the product label. Alternatively you can use a mild organic fertilizer.
---
Works great with: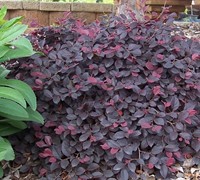 Purple Pixie Loropetalum
(23)
$24.99
$19.97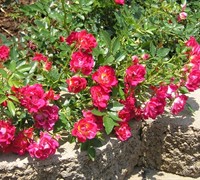 Red Drift Rose
$29.99
$22.97
New Arrivals at Gardener Direct: