Product Details
More About The Georgia Peach™ Shrub Rose..
A Gardener Direct Exclusive Plant!
The Georgia Peach Shrub Rose was discovered in 2010 and introduced in 2012 by Wilson Bros Nursery in McDonough, Georgia. It is an exceptionally low maintenance and disease-free shrub rose that produces an abundance of peachy-pink colored blooms starting in mid-spring and then repeating throughout the season. The blooms measure 3 to 4 inches across when fully open, are fully double, have a light fruity fragrance, and are excellent for cutting.
The Georgia Peach™ Shrub Rose has an upright rounded habit to about 3 to 4 feet in height with a 3 foot spread, making it an excellent selection for smaller garden spaces or large containers. The foliage is a bluish-green, and, since it was planted in 2010 in the Wilson Bros Nursery trial gardens, has been free of any disease. Insect resistance has been remarkable as well.
The Georgia Peach™ Shrub Rose is a must have low-maintenance flowering beauty for every Georgia garden...and in gardens throughout USDA Zones 5-9 in the U.S.!
Culture, Care & Planting Tips...
Sun - Plant your Georgia Peach™ Rose in a location that provides full all day sun to partial shade. Morning sun is a must on roses to dry dew from the leaves.
Soil - The Georgia Peach™ Rose will thrive in a well-drained but moist soil that is rich in organic matter. Prefers a slightly acidic soil with a pH from 5.5 to 6.5.
Planting Tips - Click here to get planting tips for the Georgia Peach Rose
Water - Deeply water after planting. Therafter, before watering, use the finger test to check soil moisture and only provide water as needed to keep soil moist or damp, not wet. Constantly soggy soil is a killer of roses.
Feeding - Feed with a slow-release rose food as directed on the product label.
Pruning - Prune to 15-18 inches above the ground in late winter or early spring. Spent flowers can be deadheaded throughout the season.
Works great with: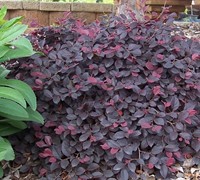 Purple Pixie Loropetalum
(26)
$24.99
$19.97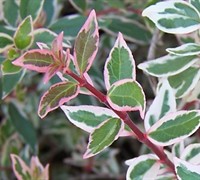 Confetti Dwarf Abelia - Abelia grandiflora 'Confetti'
(1)
$49.99
$42.97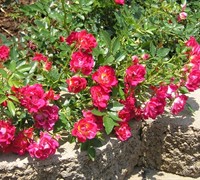 Red Drift Rose
$27.99
$21.97
Customer Reviews
(3)
5
out of 5 stars from
3
total reviews
3 reviews
0 reviews
0 reviews
0 reviews
0 reviews
Most Helpful Reviews
Pretty Little Rose
June 5th 2014
by John - Naples, Florida
This is a very pretty little rose. You'll get a lot of flowers from these plants. They like sunlight for part of the day. Morning to noon sunlight is best with afternoon to evening shade.
Reply from Gardener Direct:
Thanks for the feedback on the Georgia Peach Rose. Nice to here it's doing well as far south as Naples, FL! We weren't aware roses would grow down there...but it comes as no surprise that the Georgia Peach would do well there. We've had it growing for 4 years or so in our trial gardens here in mid Georgia and have yet to see any disease. It's gone through the rainiest summer ever in 2013 and the coldest winter we've had since 1983, and sailed through with no problems. It's on it's second bloom cycle of the season right now in our gardens (June 6, 2014). We deadhead after every bloom cycle and feed with Milorganite or Nitroganic fertilizer.
Very nice
May 21st 2014
by Elizabeth - Irmo, South Carolina
I bought this rose for a friend that had just lost her dog, named Georgia. She loved it! When she received it, it was full of buds and it started blooming within a few days. She said it was very healthy and a beautiful plant. Thank you, it made her day!
Reply from Gardener Direct:
Hi Elizabeth - We're happy to hear that your friend loved the Georgia Peach Rose. After 4 years the original shrub is still thriving in our gardens so she should enjoy it for many years to come.
Love it!
April 16th 2014
by Lela - Atlanta, Georgia
Planted my Georgia Peach Rose last fall. With the extra cold tough winter, I was afraid it would survive. It has leafed out beautifully and already has buds on it! I'm extremely happy with it.
New Arrivals at Gardener Direct: