Product Details

More about Soft Caress Mahonia...
Noteworthy Characteristics
When first laying eyes on 'Soft Caress' we didn't know it was a Mahonia. At first site we thought it might be unique variety of bamboo. Had it been in bloom we would have instantly recognized the genus by the pretty citron-yellow blooms held upright in clusters of "candles" which are typical of Mahonia. When we think of Mahonia, most of us think about holly-like stiff leaves with points on them. But, unlike the poky Holly-like foliage of other varieties of Mahonia, Soft Caress has elongated thread-like, soft-textured leaves that just beg you to touch or "caress" them.
Needless to say, we picked up a few of these 'Southern Living Plant Collection' plants and planted them in a shady spot in our trial gardens. Since then we've been amazed at how hardy and tough such a soft and gentle looking plant has proven itself to be. Neither intense heat or below 20F temperatures have phased it. It just keeps growing and looks as nice in winter as it does in summer.
The unique threadleaf foliage of Soft Caress contrasts nicely with almost any other plant in the landscape. From mid-fall through mid-winter, numerous lightly fragrant and very long-lasting citron-yellow bloom clusters are produced at the ends of branches. The flowers are followed by attractive clusters of long-lasting silver-blue berries.
Uses
Reaching about 4 feet in height with an equal spread and thriving in morning sun or dappled light, 'Soft Caress' is an excellent choice for use in foundation plantings, landscape beds, shade gardens, near the garden pond, near sitting and outdoor living spaces, and even in containers. We've used Hosta, Helleborus, Heuchera, and perennial ferns as companions, underplanting with Vinca Minor or Creeping Jenny.
Culture & Care Tips
Soft Caress Mahonia is an exceptionally easy to grow plant in locations that provide well-drained but moist soil and shade, morning sun with afternoon shade, or filtered sun. It is also very easy to maintain requiring little or no pruning.
---
Helpful Planting & Care Tips Provided By Our Experts...
---
Works great with:
Vinca minor - Evergreen Periwinkle
$95.95
$73.95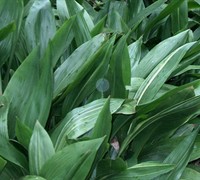 Cast Iron Plant
$19.99
$17.97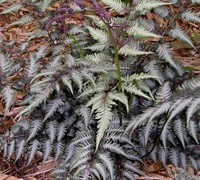 Pictum Japanese Painted Fern
$23.95
$17.97
Bloodgood Japanese Maple
$49.99
$19.97
Halcyon Blue Hosta Lily
$23.99
$17.97
Patriot Hosta Lily
$23.97
$16.97
New Arrivals at Gardener Direct: