Product Details
More about Pringles Dwarf Podocarpus Yew...
Noteworthy Characteristics
Pringles Dwarf Podocarpus is fantastic evergreen shrub with dark green, needle-like foliage that provides a unique and attractive texture in the landscape. Unlike it's much taller growing Podocarpus cousins, Pringles Dwarf will reach a mature height of about 4 to 5 feet with a similar spread, however can be maintaned at half that size with a couple shearings during the active growth season.
Uses
The smaller size and mounding habit make Pringles Dwarf an excellent selection for home foundation plantings, small to large groupings in landscape beds, a low natural or formal hedge, shrub borders, natural hedge, mass plantings, erosion control on slopes and embankments
Culture & Care Tips
Prefers sun to partial shade and well-drained moist soil. Responds well to shearing for formal shapes or hedges and to control size.
---
Helpful Planting & Care Tips Provided By Our Experts...
---
Put Abundant Color in Your Landscape Year Round With...
Works great with: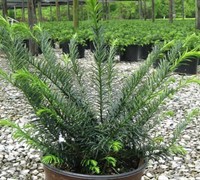 Yewtopia® Plum Yew
(2)
$29.99
$19.97
Carissa Holly - Ilex cornuta 'Carissa'
(8)
$26.99
$19.97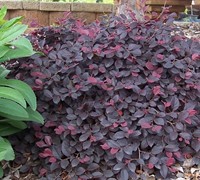 Purple Pixie® Loropetalum
(27)
$31.99
$23.97
New Arrivals at Gardener Direct: