Product Details
---
More about Red Rocket Crape Myrtle...
The Red Rocket Crape Myrtle produces an abundance of large, vibrant ruby red flower clusters for up to 100 days during summer in your landscape. It has an upright habit growing from 15-25 feet tall depending on pruning, and a canopy from 8-10 feet wide. The dark green leaves turn to bronze and red in fall.
Uses
Red Rocket is a tall growing crape myrtle selection best for planting in small groupings or as a single specimen, as a colorful screen or hedge, on the corners to frame in homes and other structures, or planted on both sides of an entryway.
---
Helpful Planting & Care Tips Provided By Our Experts...
How To Plant A Crape Myrtle Tree
How To Prune A Crape Myrtle Tree
How To Plant A Tree On A Slope, Hill Or Embankment
How To Fertilize A Crape Myrtle Tree
How To Stake A Newly Planted Tree
---
See...
Works great with: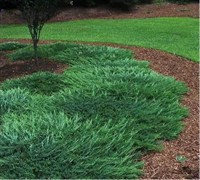 Bar Harbor Juniper
(2)
$26.99
$19.97
New Arrivals at Gardener Direct: