Product Details
More about the Twisted Hinoki Cypress...
Noteworthy Characteristics
A strikingly weird and twisted plant, Chamaecyparis obtusa 'Torulosa', commonly known as Twisted Hinoki Cypress, is a slow-growing semi-dwarf conifer that typically forms an upright pyramid to 4-5 feet tall over the first 10 years, eventually maturing to around 8 feet. This compact conifer features twisted, contorted, branching with thread-like, dark green foliage and twigs that ofetn end in a cockscomb.
The first mention of this plant was in the Gotelli Conifer Collection of South Orange, NJ in 1962. Many think that this cultivar is synonymous with Chamaecyparis obtusa 'Coraliformis.' However, 'Torulosa' is said to be more vigorous and still commonly in cultivation.
Uses
Like many contorted conifers, 'Torulosa' makes a nice feature plant in the landscape or for the conifer, rock or Japanese
garden. It's unusual structure makes for a good conversation piece. After 10 years of growth, expect the plant to be 5 feet tall by 4 feet wide.
Culture & Care
As is true of many of this species, this is a good plant for full sun and well-drained soil. It is also very drought tolerant when established. It is highly tolerant of urban pollution and will even thrive in inner city environments. It is very low maintenance rarely if ever requiring pruning. When pruning is necessary, it is recommended to only trim back the new growth of the current season.
---

Helpful Planting & Care Tips Provided By Our Experts...
How To Plant A Tree On A Slope, Hill Or Embankment
How To Stake A Newly Planted Tree
How To Plant a Shrub in a Container or Pot
---
See...
Works great with:
Blue Rug Juniper
(1)
$29.99
$19.97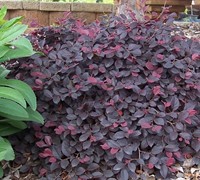 Purple Pixie® Loropetalum
(27)
$31.99
$23.97
New Arrivals at Gardener Direct: