Product Details
More about Crimson Fire Loropetalum...
Noteworthy Characteristics
Crimson Fire is a dwarf Loropetalum growing to 2-3 feet in height with an equal spread. The burgundy-red foliage is a stunning contrast to the stunning, fragrant, hot pink fringe flowers which smother the plant in spring. New growth in spring emerges ruby red maturing to burgundy with a purple cast. This is easy to grow and well-behaved shrub.
Uses
It's compact, spreading habit and foliage color and texture make Crimson Fire an excellent choice for: Mass Plantings, Small Groupings, Flowering Shrub Borders, Low Hedges, Home Foundation Plantings, Erosion Control on Slopes and Embankments, Container Gardens, Asian Theme Gardens, and as a Groundcover.
Culture & Care Tips
Crimson Fire Loropetalum does best in full sun to partial shade. It prefers to grow in well-drained but moist soils with a strong preference for rich, acidic soils. During the first season, water enough to keep soil moist but not constantly soggy. No pruning necessary however responds well to it.
Helpful Planting & Care Tips Provided By Our Experts...
How To Plant a Shrub in a Container or Pot
Works great with: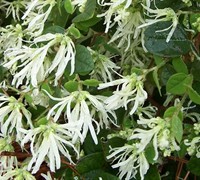 Emerald Snow® Loropetalum
(8)
$29.99
$19.97
New Arrivals at Gardener Direct: