Product Details
More about Lemon Lime Abelia...
Noteworthy Characteristics
You may have seen many Nandinas (heavenly bamboos) with red foliage, but Lemon Lime is the first one on the market to produce lime green foliage...brilliant lime green that is! The lime green leaves will brighten any dark space and add dimension to an otherwise evergreen planting. Does well in full sun to part shade. Does not produces flowers or seeds.
Uses
Single Specimen, Groupings, Shrub Borders, Natural Hedge, Home Foundations, Container Gardens, Asian Theme Gardens
Culture & Care Tips
Lemon Lime Nandina prefers a moist but well-drained soil and full sun to part shade. During the first season after planting, water only enough to keep soil moist but not constantly soggy. As with so many other ornamental shrubs, constantly wet soil can cause problems with the roots leading to damage or death of the plant.
---
Helpful Planting & Care Tips Provided By Our Experts...
How To Plant a Shrub in a Container or Pot
---
Put Abundant Color in Your Landscape Year Round With...
Works great with:
Flirt™ Dwarf Nandina
(1)
$29.99
$19.97
Obsession™ Nandina
$32.99
$19.97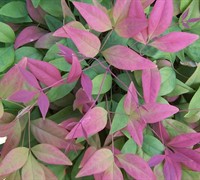 Blush Pink™ Nandina
$29.99
$19.97
Firepower Dwarf Nandina
$24.99
$19.97
Moonbay Dwarf Nandina
(1)
$24.99
$23.97
New Arrivals at Gardener Direct: