Product Details

More about ZhuZhou Loropetalum
Noteworthy Characteristics
ZhuZhou is one of if not the tallest growing of the Loropetalums. It has dark maroon colored foliage that is retained year round. Also known as the Chinese Fringe Tree, this beautiful foliage is an excellent contrast with the fringe-like, fuchsia color flowers produced in abundance during late winter and early spring, and sporadically in fall.
Uses
Its taller height and upright growth habit make ZhuZhou Loropetalum perfect for use as a single- or multi-stem specimen tree. It can also be useful as a tall, colorful hedge or as espalier (trained to grow flat against an open wall).
Culture
ZhuZhou thrives in full sun however, as with other Loropetalums, it will tolerate a fair amount of shade. Too much shade and foliage color and flowering will be diminished. As with other Loropetalums, ZhuZhou prefers moist, but well drained, rich humusy, acidic soil, but it seems to adapt to less than ideal conditions. It is one of the most cold hardy varieties available.
---
Helpful Planting & Care Tips Provided By Our Experts...
About Loropetalums & Care Tips
---
Put Abundant Color in Your Landscape Year Round With...
Works great with: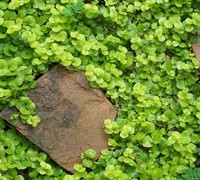 Lysimachia nummularia 'Aurea' - Golden Creeping Jenny
(2)
$29.99
$24.97
New Arrivals at Gardener Direct: