Product Details

More about Mary Nell Holly...
Noteworthy Characteristics
Mary Nell holly has some of the prettiest foliage and berries of any holly, which is saying quite a lot. The word shiny doesn't quite convey the beauty of these leaves...and these lustrous leaves maintain their attractiveness year-round.
Uses
Mary Nell Holly is tidy and polished in form making it useful as a specimen. It's dense enough that it works well as a windbreak and the spiny leaves make it a good choice for a barrier hedge. It would also be dramatic lining a drive, clustered about an entryway, or to frame the corners of a taller home or other building.
Culture
Prefers sun to part shade and well drained moist acidic soil. No pruning necessary however can be clipped to a more formal shape.
---
Helpful Planting & Care Tips Provided By Our Experts...
How To Plant A Tree On A Slope, Hill Or Embankment
How To Stake A Newly Planted Tree
---
See...
Works great with: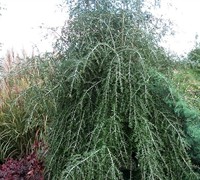 Weeping Yaupon Holly - Ilex vomitoria 'Pendula'
$49.99
$39.97
New Arrivals at Gardener Direct: