Product Details
More about Sweet Bay Laurel...
Noteworthy Characteristics
Best known as a seasoning, bay laurel is an evergreen shrub or tree that is native of the Mediterranean area. Although bay can grow into a tall tree, it is often kept smaller by pruning or by confining it in a container. In the spring, bay has small yellow flowers which develop into purple berries in the fall. Frequent pruning may mean less flowers and berries.
Culture & Care Tips
Winter hardy to USDA Zones 8-10, bay laurel is best grown in rich, moist, well-drained soils in full sun to part shade. North of Zone 8, it may be grown in containers as a houseplant. Place containers outdoors in summer in part shade locations. Bring containers indoors before fall frost for overwintering in cool areas with bright light. Size and shape of this plant can easily be controlled by pruning. For garden purposes, it is often pruned to 8' tall or less.
Uses
Leathery, thick, elliptic to oval, glossy dark green leaves (2-4" long) from this tree are commonly used as a culinary herb. In ancient Greece, leaves of this tree were woven into wreaths to crown the victors of various contests.
Outdoors, the bay laurel makes an interesting specimen for shady areas of the landscape including patios, herb gardens and woodland gardens. If left to grow taller it makes a great screen or buffer. If "limbed up" it makes a nice multi- or single-trunk tree. It makes an excellent houseplant.
Works great with: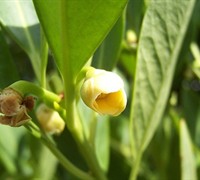 Forest Green Anise
(1)
$39.99
$32.97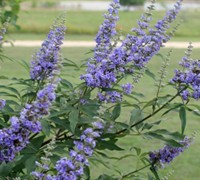 Chaste Tree - Vitex agnus-castus
(5)
$39.99
$29.97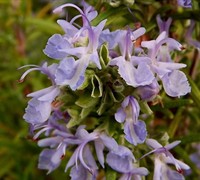 Arp Rosemary - Rosmarinus
$19.99
$15.97
Customer Reviews
(1)
5
out of 5 stars from
1
total reviews
1 reviews
0 reviews
0 reviews
0 reviews
0 reviews
Most Helpful Reviews
Great Service
May 6th 2014
by Debra - Canton, Georgia
Product as promised and great service
Reply from Gardener Direct:
Hi Debra - Thanks for the compliment! Laurus nobilis (Sweet Bay) is an exceptionally difficult plant for us to root. Our hat goes off to our grower who does such a fine job propagating these. Once rooted, they are exceptionally easy to grow in the landscape or garden. In your area (Zone 8A-7B) if the temps are going to drop below 15 degrees F during winter, we suggest covering the plant for protection until temperatures rise above 15 degrees. An extra 2-inch layer of bulk mulch or straw will help for protection as well. If you'll be growing your Sweet Bay in a container you can always bring it indoors during any periods of abnormally cold weather like we had this past winter (2013/14).
New Arrivals at Gardener Direct: