Product Details
More about Little Bonnie Dwarf Spirea...
Noteworthy Characteristics
Little Bonnie Spirea is a great choice for the deep South and any USDA Hardiness Zone as far north as Zone 5A. Unlike most other Spirea, it's attractive blue-green foliage doesn't burn out with the heat of summer. Little Bonnie produces an abundance of fuzzy lavender-pink spring blooms, and continues to bloom sporadically throughout the summer. For heavier bloom cycles simply trim off the old spent blooms and or re-shape the plant lightly.
Uses
Little Bonnie spirea is useful in the landscape as an accent plant, in small small to large groupings or as a border in landscape beds, islands and foundation plantings. It combines very nicely with plants and trees that have dark green or burgundy to purple foliage.
Culture & Care Tips
Little Bonnie spirea is exceptionally easy to grow when planted in well-drained somewhat loose soils and full sun. It is a low-maintenance plant that will grow in a wide range of well-drained soils. Very drought tolerant once established.
---
Helpful Planting & Care Tips Provided By Our Experts...
---
Put Abundant Color in Your Landscape Year Round With...
Works great with: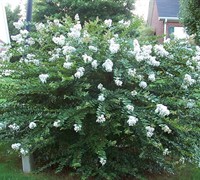 Acoma Crape Myrtle
$59.99
$49.97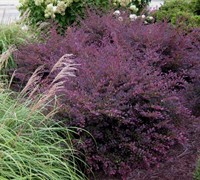 Purple Diamond® Loropetalum
(6)
$32.99
$23.97
Blue Rug Juniper
$29.99
$19.97
Customer Reviews
5
out of 5 stars from
1
total reviews
1 reviews
0 reviews
0 reviews
0 reviews
0 reviews
Most Helpful Reviews
Very pretty Plant
April 25th 2014
by Samuel - Kingwood, Texas
Arrived without so much as a broken leaf. Can't wait for it bloom
New Arrivals at Gardener Direct: