Product Details
More about Golden Times Forsythia...
Noteworthy Characteristics
Meet Golden Times! A new Forsythia that has wonderfully variegated green and yellow leaves that glow and are sure to light up your landscape throughout the season, long after the flowers are gone. The broad, irregular, bright golden-yellow margins on ther leaves encircle a central splashing of green. Some leaves are solid yellow or nearly so. Like most other forsythia, Golden Times produces bright yellow flowers that nearly cover every branch and stem of the plant during late winter or early spring, when not much else is blooming and we need color most! Golden Times grows to about 6 to 8 feet in height with an equal spread, so give it ample room to grow.
Uses
Golden Times works great in the landscape as a colorful single specimen, as a natural hedge, in flowering shrub borders, or on slopes and embankments. The flowering branches in spring are very nice in cut flower arrangements.
Culture & Care Tips
Golden Times Forsythia tolerates a wide range of soil types, provided they are well-drained, and grows well in full sun to part shade. Flowering will be heavier with more sun. Like most forsythias, it should be hand-pruned after flowering, never sheared.
---
Helpful Planting & Care Tips Provided By Our Experts...
---
Put Abundant Color in Your Landscape Year Round With...
---
Works great with: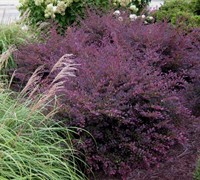 Purple Diamond® Loropetalum
(6)
$32.99
$23.97
New Arrivals at Gardener Direct: