Product Details
Pink Homerun Rose is a fast and moderate growing shrub and rose that can be grown in USDA Plant Hardiness Zones 5A through 9B. It prefers growing in a location that provides full sun, morning sun with afternoon shade or morning shade with afternoon sun and grows best when planted in sand, loam, clay or silt soil that is well drained or moderately drained. In the spring, summer and fall Pink Homerun Rose produces rose pink and bright pink flowers. The foliage is medium green and dark green in color. It attracts butterflies and visual attention and is resistant to drought, insects, diseases, mildew and heat.

Pink Homerun Rose can be useful in the landscape along woodland borders, in foundation plantings, in containers or planters, as a background, in shrub borders, around decks, swimming pools, and other outdoor living areas, in landscape beds or islands, grown flat against a wall, to accentuate entryways or in small groupings and also in theme gardens, cottage gardens, butterfly gardens or perennial gardens.
---
More about the Homerun Pink Rose...
The Homerun Pink Rose produces an abundance of striking single petaled pink flowers from April to frost on disease free bushes. It is just as disease resistant as the famous Knock Out Rose.
In our trial gardens the Homerun Rose is performing equally as well as the Knock Out Rose. Every year, folks send us new roses to try that are touted to be "care free" or "disease free" but, in our gardens we have proved that the Homerun Rose is simply outstanding, and with it's captivating bright pink flowers it just can't be beat. So, if you want truly disease-free and low maintenance roses, the Homerun Pink Rose is your rose!
The Homerun Rose is exceptionally easy to grow and does not require any special care. They are of the most disease resistant roses on the market. They have stunning flower power with a generous bloom cycle (about every 5 weeks) that starts in spring and continues to beyond frost. The Homerun Rose is self cleaning so there's no need to deadhead unless you want to.
The Homerun Rose can fit into any landscape. Plant it individually among other shrubs, in small to large groups, or as a low-maintenance hedge. It holds up so well they are well-suited for use in foundation plantings as well.
Plant the Homerun Rose in locations that provide well-drained but moist soils and full sun to part shade. Morning sun is a must for all roses. Six or more hours of sun is best.
To keep your Homerun Pink Rose full and bushy from year to year prune the branches back to about 15-18 inches above the ground in late winter or early spring.
---
How To Plant a Shrub in a Container or Pot
Works great with: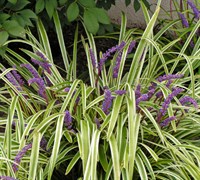 Liriope muscari 'Variegata' - Variegated Liriope
(3)
$23.99
$17.97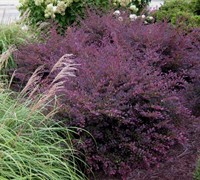 Purple Diamond® Loropetalum
(6)
$32.99
$23.97
New Arrivals at Gardener Direct: